Back To Teams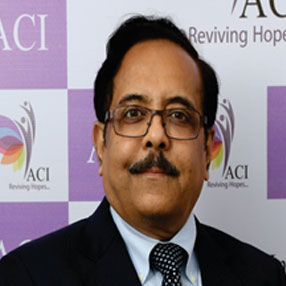 Dr Sanjay Sharma
Director & Professor Surgical Oncology
M.B.B.S. Gold Medal Surgery Medicine, M.S. (Gen. Surgery): Gold Medal
Dr. Sanjay Sharma is a renowned Surgical Oncologist and professor with a rich experience of over four decades. He is presently the Director, Surgical Oncologist and Professor at the Asian Cancer Institute, Mumbai; Professor of Surgical Oncology at Bombay Hospital; Honorary Surgical Oncologist & Professor at the Lilavati Hospital, Mumbai and the Director & Head Surgical Oncologist, AMRI ACI in Bhubaneshwar, Orissa.
Previously, he had served at Tata Memorial Cancer Hospital as the Professor, Surgeon and Head of Department of Thoracic Oncology and Breast Cancer Services. A gold medallist in academics, he has also done fellowships from Memorial Sloan Kettering Cancer Centre, USA, Cornell University and Stanford university.
He has been an active member at various medical associations. He has over 150 publications in National and International PEER reviewed journals. He is also actively involved as a Principal Investigator and Co-Investigator in multiple clinical trials for cancer treatment in India and abroad. He has received multiple Orations including Radhadevi Oration, Annual IASO meeting, N.C. Mishra Oration U.P Chapter Surgeons of India, Endowment Lecture National Conference ASI. He is a proud recipient of several prestigious awards for his exemplary contribution to social services and educational performances in India & abroad.