Services
Metropolis is a global leader in Blood Tests, Diagnostics and Wellness services. With operations across India, Africa, South Asia, and Middle East, we are trusted millions of Customers for their Inner Health Management
Metropolis Edge
Widespread network of 100+ advanced labs & 1500+ centres
Highly trained team for paediatric blood collection
Comprehensive Reports
Globally Certified NABL and CAP accredited labs
Comprehensive range of 4000+ tests & panels
Convenience of blood collection at home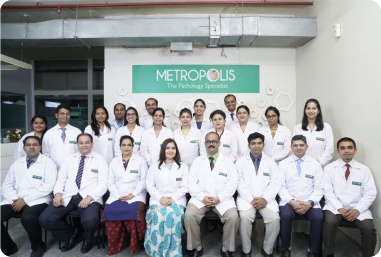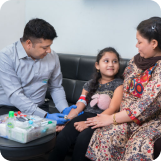 Wellness Solutions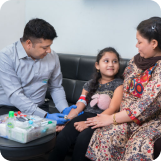 Our experience in diagnostics testing and services has allowed us to scientifically design and combine diagnostic tests into diverse health check-ups. These check-ups are a combination of a variety of early detection and diagnostic tests to screen disorders that may arise out of lifestyle and other diseases. We offer pre-employment check-ups, employee health plans, and annual check-ups for corporates to build a healthy workforce. Metropolis' Executive Health Check-up Program can be personalised to suit the organizational and employee needs.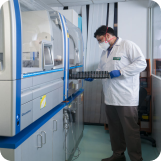 Hospital Laboratory Solutions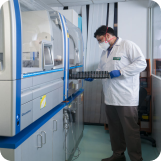 Metropolis is a partner in diagnostics excellence with many leading hospitals across geographies by offering full scale in-house pathology a services and solutions.
Metropolis has been managing the laboratories of leading multi-specialty hospitals in India, Sri Lanka and Africa.
Metropolis empowers hospitals to offer patients the best in diagnostic care without diverting their focus from core healthcare services. By sparing them the effort to manage yet another department, it turns out to be a cost-effective solution. The referral lab works like their full-fledged department and carries out a wide range of clinical lab tests.
Outsourcing to Metropolis:
Metropolis offers an extensive test menu and hospitals across India outsource esoteric testing to us. Our commitment to quality processes and accurate results has led us to become one of the trusted partners to hospitals and doctors alike
Our extensive experiences have equipped us with the prerequisite expertise to upgrade and operate existing laboratories to maximize productivity and efficiency for a superior quality in-house diagnostic service and ensure better returns on investment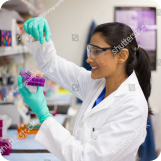 Clinical Trial Partners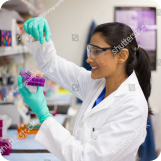 At Metropolis, we're equipped with the rich experience of having supported hundreds of clinical trials. We understand that the success of each project in part depends on how well the program is designed, the accuracy of results, robust technology and data for confident decision making throughout the process. We therefore listen to our clients closely and offer tailor-made services unique to their needs and CT projects.
We offer analytical and support services such as logistics and EDI to contract research organizations for their clinical research projects. We have conducted approximately 439 clinical research assignments, as of March 31, 2018, for contract research organizations and pharmaceutical manufacturers. Our contract for clinical research studies involves providing services such as site initiation, specimen and report logistics, specimen analysis, reporting, long term specimen storage service, data management, EDI and co-ordination amongst all parties involved in the study.