Quality Assurance
Our quality assurance system enables a process oriented approach to ensure quality testing through use of standard operating procedures, management of documents and records, implementation of quality control, external quality assessment (including proficiency testing) and robust internal audits. Our quality assurance system covers the entire value chain of our laboratory operations. Besides core laboratory operations and front-end services, our quality assurance system extends to physical infrastructure, procedures for purchase and inventory management, equipment maintenance, customer service, human resource management and process improvement.
Accreditations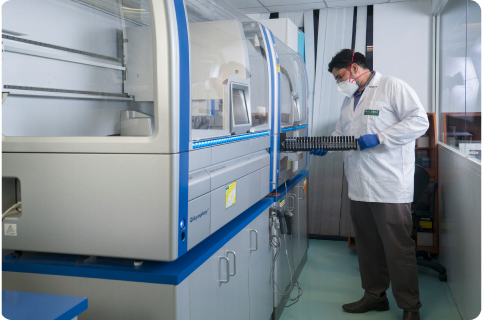 We have adopted standard operating procedures for our clinical laboratories and other facilities designed to improve processes for patient preparation and collection, handling, storage and transportation of specimens, as well as to ensure accurate and timely test results. Our quality assurance efforts focus on positive patient identification of specimens, report accuracy, proficiency testing, reference range relevance and process audits for all of our clinical laboratories, patient touch points and institutional touch points. We also have systems and procedures in place to monitor quality through inter-laboratory comparisons, to maintain reporting standards within our network. We also focus on training and competency of professional and technical staff, and continue to implement initiatives to enhance our quality and standardization. We use customer complaints and feedbacks to review our processes and make improvements, as and when indicated, to further improve service to our customers. We also have a pre-analytical check team in place to ensure quality standard of our patient touch points. We also provide telephonic support to our patients, doctors and institutional customers, through our in-house as well as third-party call centers (in selected locations), which are operated by professionally trained advisors.
Instituted in 1981, Metropolis has founded its reputation on accurate, reliable and consistent laboratory testing and reports. While global gold-standard accreditations like the CAP are an indicator of the quality at Metropolis, the real testimony lies in the fact that our clients include top hospitals, multihospital groups, top individual doctors and consultants and other network laboratories that have relentlessly placed their trust in Metropolis. Our CAP proficiency score at 98.5 puts us amongst the top 1% laboratories worldwide for quality testing. In addition, Metropolis is also accredited by NABL (National Accreditation Board for Testing and Calibration Laboratories), a nodal government institution promoted by the Department of Science & Technology.