Home > Anti-Nuclear Antibody Test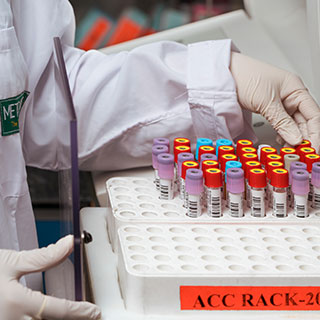 Anti-Nuclear Antibody Test
The ANA test identifies the presence of antinuclear autoantibodies in the blood.
Blood Collection at Home
Smart Report with Trend Analysis
8-stage MET Protocol
Certified CAP & NABL Labs
To evaluate for certain autoimmune disorders, such as systemic lupus erythematosus (SLE) and Sjogren syndrome, among other types.
Your doctor may recommend this test if he thinks you have the symptoms of lupus or another autoimmune disorder. These symptoms include:
Fever
Red, butterfly-shaped rash (a symptom of lupus)
Fatigue
Joint pain and swelling
Muscle pain
Antinuclear antibodies (ANA) are a gaggle of antibodies produced by an individual's system when it fails to adequately distinguish between "self" and "nonself." These antibodies, referred to as autoantibodies, attack the body's own healthy cells and cause signs and symptoms like tissue and organ inflammation, joint and muscle pain, and fatigue. ANA specifically target substances found within the nucleus of a cell, hence the name "antinuclear." The ANA test identifies the presence of those autoantibodies within the blood. The presence of ANA could also be a marker of an autoimmune process and is related to several autoimmune disease s but is most ordinarily seen with the autoimmune disorder systemic LE (SLE).
The ANA test is one among the first tests for helping to diagnose a suspected autoimmune disease or ruling out other conditions with similar signs and symptoms. As such, it's often followed by other tests for autoantibodies which will help to determine a diagnosis. These may include, for instance, an ENA panel, anti-dsDNA, anti-centromere and/or anti-histone test.
Reference Values Of Anti-Nuclear Antibody Test
ANA is reported as a "titer". Low titers are in the range of 1:40 to 1:60. A positive ANA test is of much more importance if you also have antibodies against the double-stranded form of DNA. The presence of ANA does not confirm a diagnosis of systemic lupus erythematosus (SLE).
Interpretations
A positive ANA test result means that autoantibodies are present but further checks would be needed for final diagnosis.
A negative ANA result makes SLE an unlikely diagnosis, so you need not repeat test immediately, but a test in future date is advised.
Basket
(0 items)
TruHealth Checkups
Find the most suitable checkup for you from our range of TruHealth Checkups
Why Metropolis?
Metropolis has a team of 200 senior pathologists and over 2000 technicians delivering diagnostic solutions in the areas of routine, semi specialty and super specialty domains like Oncology, Neurology, Gynaecology, Nephrology and many more.
We offer a comprehensive range of 4000+ clinical laboratory tests and profiles, which are used for prediction, early detection, diagnostic screening, confirmation and/or monitoring of the disease.
Trusted by Leading Doctors & Hospitals
Over 2000+ Scientific Officers
Proficiency Testing for Accurate Reports
Frequently Asked Questions
Our Blog
Take a look at some of the related content from our blog
What Our Customers Say
We're satisfying our customers every day since 1980

Bena Patel

Sharmila Vaishnav

Ishwarakrishnan

Chris Bessell

Prabhu Gopalakrishnan

Kedar Ambekar
Our Global Reference Lab
Accreditations

Anti-Nuclear Antibody Test