Home > Amylase Enzymatic Serum Test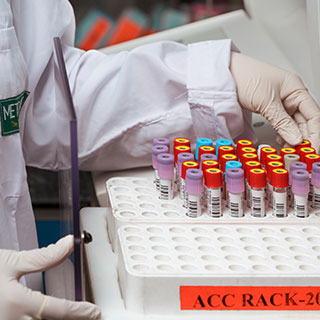 Amylase Enzymatic Serum Test
An amylase enzymatic serum test measures the amount of amylase in a person's blood.
Blood Collection at Home
Smart Report with Trend Analysis
8-stage MET Protocol
Certified CAP & NABL Labs
This enzyme is produced in the pancreas; hence its estimation yields information about the functioning of pancreas and also indicative of several pancreatic disorders-acute pancreatitis, importantly. It can also be used to diagnose chronic pancreatitis and other pancreatic disorders.
Your doctor may recommend this test for you if you show symptoms of a pancreatic disorder. The symptoms include:
Nausea and vomiting
Severe pain in the abdomen
Loss of appetite
Recurring Fever
Amylase is one of several enzymes produced by the pancreas in order to facilitate digestion of carbohydrates. This test measures the amount of amylase in the blood or urine or sometimes in peritoneal fluid-fluid present in the abdomen.
Reference Values Of Amylase Enzymatic Serum Test
| | |
| --- | --- |
| Age Group | Common (Both Male & Female) U/L |
| 1 Months | < 18 |
| 1-6 Months | < 43 |
| 6-12 Months | < 81 |
| 1-18 Years | < 106 |
| 18-70 Years | between 25-125 |
| 70-100 Years | between 20-160 |
Interpretations
A high amylase level in the blood may indicate conditions peculiar to pancreatic disorders.
In acute pancreatitis, amylase in the blood often increases 4 to 6 times higher than the highest reference range. The Ranges usually remain high as long as the infection remains untreated. Then the amylase Ranges will return to normal in a few days.
In chronic pancreatitis, amylase levels initially will be moderately elevated but often reduces over time with progressive pancreas damage. In this case, levels returning to normal may not be indicative of the disorder being resolved. In chronic pancreatitis, the magnitude of amylase levels does not perfectly associate with the severity of the condition.
Amylase levels may also be significantly increased in people with pancreatic duct obstruction and pancreatic cancers.
In general, urine amylase levels rise proportionately with blood amylase levels and stay elevated till for several days after blood levels have reached within a normal range.
An increased level of amylase in peritoneal fluid can occur in acute pancreatitis but may also occur in other abdominal disorders, such as obstructed intestine or decreased blood flow to the intestines (infarct).
A low amylase level in blood and urine in a person with pancreatic disease-specific symptoms may indicate irreversible damage to the amylase-producing cells of the pancreas.
Increased blood amylase levels with normal to low urine amylase levels may show the presence of a macro amylase, a benign complex of amylase and other proteins that accumulates in the blood.
Basket
(0 items)
TruHealth Checkups
Find the most suitable checkup for you from our range of TruHealth Checkups
Why Metropolis?
Metropolis has a team of 200 senior pathologists and over 2000 technicians delivering diagnostic solutions in the areas of routine, semi specialty and super specialty domains like Oncology, Neurology, Gynaecology, Nephrology and many more.
We offer a comprehensive range of 4000+ clinical laboratory tests and profiles, which are used for prediction, early detection, diagnostic screening, confirmation and/or monitoring of the disease.
Trusted by Leading Doctors & Hospitals
Over 2000+ Scientific Officers
Proficiency Testing for Accurate Reports
Frequently Asked Questions
Our Blog
Take a look at some of the related content from our blog
What Our Customers Say
We're satisfying our customers every day since 1980

Bena Patel

Sharmila Vaishnav

Ishwarakrishnan

Chris Bessell

Prabhu Gopalakrishnan

Kedar Ambekar
Our Global Reference Lab
Accreditations

Amylase Enzymatic Serum Test