Home > Thrombophilia Profile - Maxi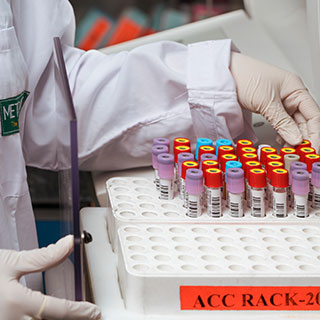 Thrombophilia Profile - Maxi
Thrombophilia Profile - Maxi test helps diagnose abnormalities of Blood coagulation.
Blood Collection at Home
Smart Report with Trend Analysis
8-stage MET Protocol
Certified CAP & NABL Labs
Thrombophilia doesn't cause any visible symptoms, so you might not even know you have it unless you have a blood clot. Symptoms of a blood clot depends on where it's situated like the arm, legs, heart, lungs.
Your doctor may recommend this test for you if notices the signs of thrombophilia. The symptoms include:
pain, swelling and tenderness in your leg, usually around the calf
a heavy ache in the affected area.
warm skin in the area surrounding the clot.
red skin, particularly at the back of your leg below the knee.
Thrombophilia is an abnormality of blood coagulation that increases the risk of thrombosis (blood clots in blood vessels). Such abnormalities can be identified in 50% of people who have had an episode of thrombosis that was not created by other causes. A significant proportion of the population has a detectable thrombophilia abnormality, but most of these develop thrombosis only in the presence of an extra risk factor
Reference Values Of Thrombophilia Profile - Maxi
Protein C 70-140%
Protein S 53 – 109%
Antithrombin 80 – 120 iu/dl
Lupus anticoagulant not applicable
Factor V Leiden not applicable
Prothrombin not applicable
Interpretations
You may not need treatment unless you have developed a blood clot or are at high risk of developing one. Some factors that can influence treatment decisions are:
age
family history
overall health
lifestyle
Basket
(0 items)
TruHealth Checkups
Find the most suitable checkup for you from our range of TruHealth Checkups
Why Metropolis?
Metropolis has a team of 200 senior pathologists and over 2000 technicians delivering diagnostic solutions in the areas of routine, semi specialty and super specialty domains like Oncology, Neurology, Gynaecology, Nephrology and many more.
We offer a comprehensive range of 4000+ clinical laboratory tests and profiles, which are used for prediction, early detection, diagnostic screening, confirmation and/or monitoring of the disease.
Trusted by Leading Doctors & Hospitals
Over 2000+ Scientific Officers
Proficiency Testing for Accurate Reports
Frequently Asked Questions
Our Blog
Take a look at some of the related content from our blog
What Our Customers Say
We're satisfying our customers every day since 1980

Bena Patel

Sharmila Vaishnav

Ishwarakrishnan

Chris Bessell

Prabhu Gopalakrishnan

Kedar Ambekar
Our Global Reference Lab
Accreditations

Thrombophilia Profile - Maxi