Back To Teams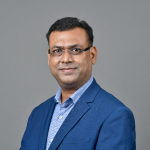 Mr. Rakesh Agarwal
Chief Financial Officer
Mr. Rakesh Agarwal is the Chief Financial Officer of Metropolis Healthcare Ltd. He holds a Master's degree in Business Administration with a specialization in Finance from AIM Institute and is a qualified Company Secretary from ICSI. With over 24 years of progressive experience in Finance domain, Mr. Agarwal has a strong background in Business Finance, Financial Management, and Operations Management.
In his previous role, he led the Finance Controller function for India at Bharti Airtel Limited. Prior to that, he held positions at organizations including Dishnet Wireless Ltd and Usha International Ltd. Mr. Agarwal's extensive experience encompasses various aspects of finance, including consumer experience, business partnering to drive revenue and cost optimization, business reporting and analysis, internal and statutory audit, statutory compliance, and governance.
Mr. Agarwal's outstanding contributions to the field of Finance and his pivotal role in driving the organization's growth have garnered him well-deserved recognition. He was honoured with the FE CFO of the Year Award for the year 2021 at the 5th edition of FE CFO Awards, in addition to receiving the Financial Star Award at the inaugural edition of the Financial Express' CFO Connect Conclave. Furthermore, he was presented with the Top 100 CFO Award for his exceptional execution of strategic initiatives at the CFO100 Programme.