Back To Teams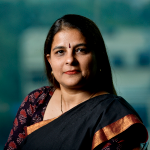 Ms. Ishita Medhekar
Chief People Officer
Ms. Ishita Medhekar is the Chief People Officer at Metropolis Healthcare. She is a passionate human resources professional with over 20 years of experience spanning several institutions across industries, such as Tata Telecom, Bharti Airtel and Sterlite Power. Her specialisations include business partnering, designing people strategy and systems, performance and reward management, business restructuring and change management tactics, and progressive talent management initiatives.
At Metropolis, she is an integral member of the leadership team and works closely with key stakeholders to create and deliver the People Strategy for the business, ensuring that the business objectives are met.
Ms. Ishita's contributions to the industry have not gone unnoticed. She has received several accolades, including the 'Leader of the Year 22-23' Award by The Economic Times Human Resource Summit 2023 and the 'Women Leader of the Organization' category at the Women Empowerment & GIWL Awards 2023.
Ms. Ishita is also credited with introducing the Employee Value Proposition for the first time in the diagnostic industry, a move that significantly contributed to Metropolis Healthcare's attainment of the Great Place to Work™ certification.
Her robust business acumen, combined with her essential strategic perspective, equips her to lead the HR function with confidence and ease.