Home > HLAB27 Test in Mumbai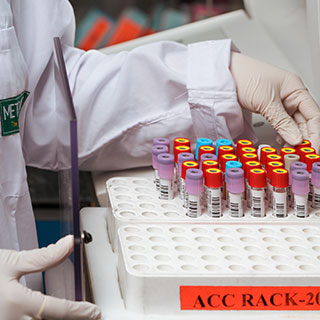 HLAB27 is used in the diagnosis of an auto-immune disorder such as ankylosing spondylitis, reactivate arthritis and rheumatoid arthritis in children which is termed juvenile rheumatoid arthritis.
Blood Collection at Home
Smart Report with Trend Analysis
8-stage MET Protocol
Certified CAP & NABL Labs
Autoimmune disorders like ankylosing spondylitis, reactive arthritis is progressive in nature. Symptoms typically start in the early 30's but effects are visually seen on an x-ray after many years. The symptoms start out subtle and gradually develop over the years. This test helps determine whether you have human leukocyte antigen B27 (HLA-B27) on the surface of your cells and in turn it helps assess the likelihood that you may be suffering from an autoimmune disorder.
The doctor may order the test for you if you display the following symptoms
Pain, inflammation associated with stiffening of spine, neck and chest may indicate ankylosing spondylitis.
Inflammation of the joints and skin lesions
HLA-B27 is a specific protein that is found on cell surfaces. The HLAB27 is used to identify the presence or absence of this protein on white blood cells. The full form of HLA is Human Leukocyte Antigen and helps the body identify between its own cells and foreign body. People with HLA-B27 have an increased likelihood of developing autoimmune diseases such as ankylosing spondylitis, reactive arthritis, juvenile rheumatoid arthritis and isolated acute anterior uveitis. HLAB27 is also associated with Inflammatory Bowel Disease.
Reference Values Of HLAB27 Test
A negative test means that there is no HLA-B27 in your blood. It is important to note that a negative HLA-B27 test does not mean that you may not have an autoimmune disorder. Your doctor will make a final diagnosis basis the symptoms that you have, and test results and he may order more tests if needed.
A positive test results indicates presence of HLA-B27 in your blood.
Interpretations
The person tested is at increased risk of developing certain autoimmune diseases if the test is positive. If it is negative, then the marker was not detected. However even if the test is negative the person may acquire HLA-B27 antigen and develop these autoimmune diseases.
Basket
(0 items)
TruHealth Checkups
Find the most suitable checkup for you from our range of TruHealth Checkups
Why Metropolis?
Metropolis has a team of 200 senior pathologists and over 2000 technicians delivering diagnostic solutions in the areas of routine, semi specialty and super specialty domains like Oncology, Neurology, Gynaecology, Nephrology and many more.
We offer a comprehensive range of 4000+ clinical laboratory tests and profiles, which are used for prediction, early detection, diagnostic screening, confirmation and/or monitoring of the disease.
Trusted by Leading Doctors & Hospitals
Over 2000+ Scientific Officers
Proficiency Testing for Accurate Reports
Frequently Asked Questions
Our Blog
Take a look at some of the related content from our blog
What Our Customers Say
We're satisfying our customers every day since 1980

Bena Patel

Sharmila Vaishnav

Ishwarakrishnan

Chris Bessell

Prabhu Gopalakrishnan

Kedar Ambekar
Our Global Reference Lab
Accreditations