Home > Pap Smear Test in Mumbai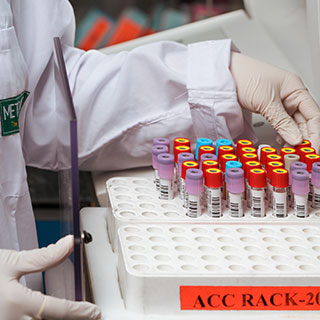 Pap smear test is conducted to check for cervical cancer and certain infections of the vagina or cervix.
Blood Collection at Home
Smart Report with Trend Analysis
8-stage MET Protocol
Certified CAP & NABL Labs
Doctors usually recommend this test to be taken by women who are above the age of 21 every 3 years. Also if you are someone who is sexually active, or if you are a chronic smoker, or if you have been diagnosed with cervical cancer or the pre-cancerous cells, this test is for you.
Your doctor may recommend the test for you if you are a woman above the age of 21 and are facing severe symptoms like bleeding between periods, bleeding after sexual intercourse, discomfort or too much during sex, vaginal discharge with strong odour and blood and pain in the pelvic area. These symptoms can also be caused because of vaginal infection.
A Pap test is a screening test or used as a preventive measure for detection of cervical cancer. It is used to find out the presence abnormal cells -cancerous or precancerous cells (cells that might turn into cancer), which helps in initial detection of cervical cancer. It can also show information about presence of any vaginal or cervical infections.
Reference Values Of Pap Smear Test
Low-grade SIL (LSIL) or CIN1: mildly abnormal cells that usually go away on their own.
High-grade SIL (HSIL), CIN2 or CIN3: moderate to severe abnormal cells. CIN3 also may be referred to as carcinoma in situ.
Interpretations
Normal: A regular Pap smear test implies that all cells are seen as normal without the presence of abnormal cells. This means that it's very unlikely that cervical cancer is present. However, often the diagnosis are missed and it's recommended to perform pap at periodic intervals in accordance to the rules and as advised by your doctor.
Inconclusive (also called ASC-US): ASC-US stands for atypical squamous cells of undetermined significance. An ASC-US result indicate the absence of normal cells, however, the presence of abnormal cells isn't seen either. These results may also be cited as inconclusive. Around 75% women with an ASC-US result haven't had any abnormal cells on their cervix.
Abnormal: Abnormal results tell you that the cervical cells are not normal in nature, and may indicate the changes to the normal cells because of infection, or cancer caused by a virus (human papilloma virus) that's known to cause cervical cancer. The changes can be mild, moderate or severe. Majority of females with abnormal cells don't have cancer, but more severe abnormal cells can grow cancerous over a period of time. Abnormal results are cited as dysplasia (dis-PLAY-zha), cervical intraepithelial neoplasia (CIN) or squamous intraepithelial lesions (SIL).
Basket
(0 items)
TruHealth Checkups
Find the most suitable checkup for you from our range of TruHealth Checkups
Why Metropolis?
Metropolis has a team of 200 senior pathologists and over 2000 technicians delivering diagnostic solutions in the areas of routine, semi specialty and super specialty domains like Oncology, Neurology, Gynaecology, Nephrology and many more.
We offer a comprehensive range of 4000+ clinical laboratory tests and profiles, which are used for prediction, early detection, diagnostic screening, confirmation and/or monitoring of the disease.
Trusted by Leading Doctors & Hospitals
Over 2000+ Scientific Officers
Proficiency Testing for Accurate Reports
Frequently Asked Questions
Our Blog
Take a look at some of the related content from our blog
What Our Customers Say
We're satisfying our customers every day since 1980

Bena Patel

Sharmila Vaishnav

Ishwarakrishnan

Chris Bessell

Prabhu Gopalakrishnan

Kedar Ambekar
Our Global Reference Lab
Accreditations