Preventive Healthcare
Swollen Lymph Nodes: Symptoms, Causes, Types and Treatment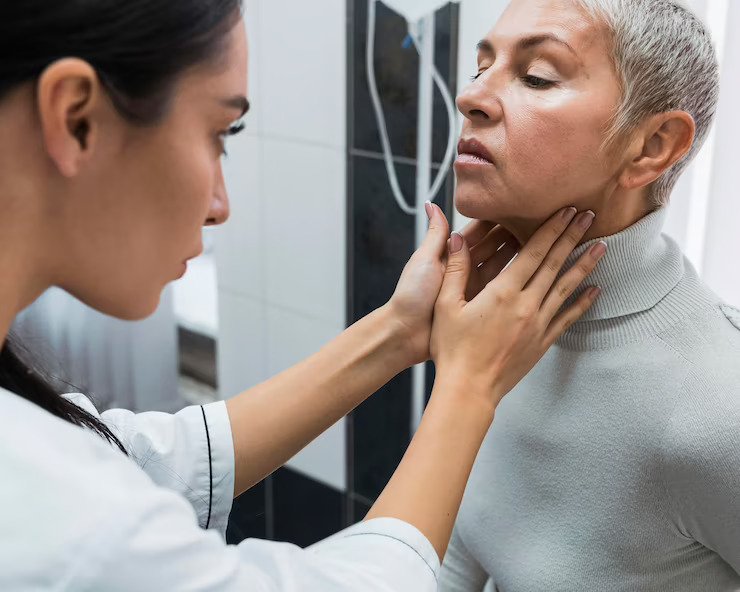 Lymph nodes are small, bean-shaped structures of the body's immune system. They are located in various parts of the body and are responsible for filtering out harmful substances. When a person is sick or injured, the lymph nodes become swollen and painful, a condition known as lymphadenopathy. The swelling of lymph nodes can be a sign of a serious underlying condition such as an infection or cancer.
Symptoms of Swollen Lymph Nodes
The lymphatic system is made up of vessels, organs & lymph nodes that are located all over your body. The most common areas for swollen lymph nodes are in the head and neck region, armpits and groin area. When your lymph nodes first swell, you may experience tenderness and pain in them and the swelling could be as small as a pea or as large as a kidney bean. Swollen lymph nodes are a sign that something is not right in your body and you should seek medical attention to determine the underlying cause.
Various conditions can cause swollen lymph nodes and their associated symptoms may vary. Some more common signs include a runny nose, fever, sore throat & other signs of an upper respiratory infection. Moreover, your body's lymph nodes might swell generally throughout. This could be due to an infection like mononucleosis or HIV or immune system disorders like rheumatoid arthritis & lupus. In rare cases, hard and rapidly growing nodes that don't respond to treatment may indicate cancer or lymphoma.
Causes of Swollen Lymph Nodes
The lymph nodes in your body are small, bean-shaped clusters of cells that are part of the immune system. When lymphatic fluid circulates throughout your body, these cells filter it and protect you by eradicating any invaders. Lymph nodes are usually found in groups and each group is responsible for draining a particular area of your body. Swollen lymph nodes are often most noticeable in the neck, under the chin, in the armpits and the groin and the location of the swollen nodes may indicate the cause.
A variety of factors can cause swollen lymph nodes. Common infections such as measles, step throat, ear infections and infected teeth can cause lymph nodes to become swollen. Mononucleosis, skin or wound infections like cellulitis can also be triggered. A less common cause of swollen lymph nodes is the Human Immunodeficiency Virus (HIV), which causes AIDS. Cat scratch fever is another cause of swollen lymph nodes.
Types of Lymph Nodes
The following are some different lymph node types:
The cervical lymph nodes are crucial to the immune system of the body. They fall into three groups according to where they are located in the neck. When a common cold or strep throat is present, the anterior cervical lymph nodes closest to the front of the neck are known to expand. When infectious mononucleosis is present, the posterior cervical lymph nodes, which are situated behind the band of muscles on the side of the neck, are prone to expand. Lastly, when HIV is present, the occipital lymph nodes, which are situated at the base of the skull at the back of the neck, often swell.
Axillary lymph nodes are incredibly important when it comes to diagnosing breast cancer. These nodes, located in the armpit area, typically range from 10 to 40 in number. When cancer cells are released from a breast tumour, they tend to first travel to the axillary lymph nodes. Medical professionals can use this information to determine the progress of cancer, as cancer cells usually spread through lymph nodes in a particular pattern. Axillary lymph nodes are thus invaluable for diagnosing breast cancer and providing the appropriate treatment.
Supraclavicular Lymph Nodes
The supraclavicular lymph nodes above the collarbone are an important indicator of serious health issues such as lung cancer or lymphoma. Generally, if these lymph nodes are swollen or enlarged, it could indicate a more serious underlying condition. You should also be aware of other symptoms such as tiredness, weight loss or night sweats, as these can indicate a more serious health issue.
Mediastinal lymph nodes are located in the centre of the chest, between the lungs. We can't feel them but they can be seen in CT Scans or PET scans. These lymph nodes are especially important when diagnosing lung cancer and certain types of lymphoma. It is imperative to look at the mediastinal lymph nodes when staging these types of cancers and determine the best treatment course.
Some other types of lymph nodes are inguinal lymph nodes, retroperitoneal lymph nodes, mesenteric lymph nodes & pelvic lymph nodes.
Treatment of Swollen Lymph Nodes
It is possible to alleviate the discomfort of a cold with rest, fluids and over-the-counter pain relievers like ibuprofen. In addition, antibiotics, antiviral drugs and other medicines that aid the body's immune system in fighting infection may be used to treat more serious infections including mononucleosis and HIV.
Your doctor may suggest surgical removal of the swollen lymph nodes. Lymph nodes are removed if they create difficulties or if malignancy is suspected. If an allergy is to blame for the enlarged lymph nodes, avoiding the allergen may help reduce symptoms. It is important to seek medical attention if you are experiencing swollen lymph nodes as it can be a sign of a more serious condition.
In addition to conventional medical therapies, modifying your lifestyle may alleviate the discomfort associated with enlarged lymph nodes. By following a regimen of healthy eating, frequent exercise and sufficient rest, you can help strengthen the immune system and reduce the likelihood of infection.
Conclusion
In summary, swollen lymph nodes can be a sign of a serious underlying condition and it's important to seek medical attention if you experience any associated symptoms. Knowing the causes, types, and treatments of swollen lymph nodes can help you get the medical attention you need.
If you want to confirm that you are fit and healthy, it is important to go for a checkup. You can choose Metropolis Labs to get accurate and reliable reports. Metropolis Labs also provides in-home collection services for your convenience.
Most Viewed
Featured News