Health Wellness
Got your COVID Vaccine? Here's What you should do next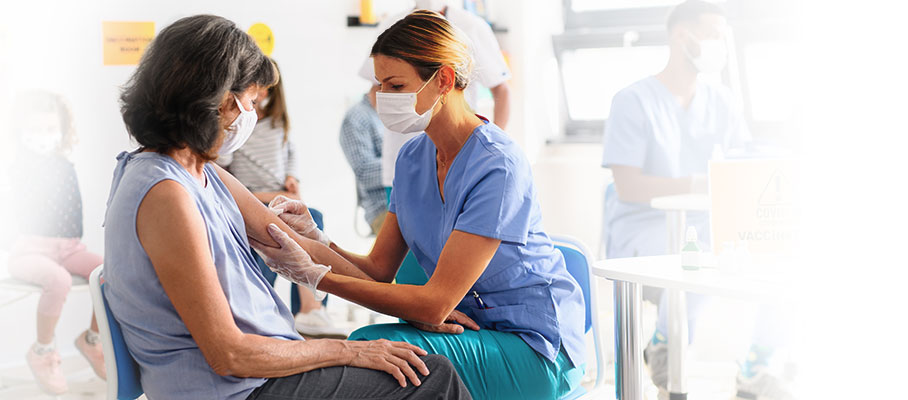 Since the onset of COVID-19, people around the world are taking all the necessary steps to ensure that they come out safer and stronger with each wave. Increased spreading of the virus, no ideal medicinal protocol and the emergence of several new variants are still the most difficult tasks in managing the pandemic. One of the best possible ways to safeguard yourself from the clutches of this global pandemic is to get your loved ones and yourself vaccinated. After a tiresome wait, the world now has access to multiple COVID-19 vaccines. The vaccines available in the market are proven effective in preventing coronavirus infection, reducing its severity and eventually reducing the risk of people spreading it.
Check how your body has responded to COVID vaccination with COVIPROTECT test.
Are you fully vaccinated?
Generally, you would be considered fully vaccinated after two weeks of getting the second dose in a two dose series vaccine. The vaccine enters the body and trains your immune system to recognize and fight this virus. It is said to start working after two weeks because it takes time for your body to build antibodies against the virus. Some fully vaccinated people might get COVID infection, however, the severity of disease remains fairly low. Also, if someone is on a medical prescription that affects their immune system, they may not be fully protected even after getting fully vaccinated, since their immune system is already compromised. Hence for such people, taking necessary precautions is a must continuously.
Getting some side effects is fine!
You can expect minor side effects after getting injected, some of them include:
Pain and swelling on the arm that received the vaccine
Feeling cold or having a mild fever
Fatigue and body ache
Headache
Muscle and joint pain


You may feel uneasy or have some mild side effects after getting your jabs, but there is nothing to panic, it is just a sign that your body is building protection. While these effects may cause uneasiness or pain, they are temporary and should go away in a few days' time. Some people don't experience any side effects; there is actually no harm in that as well. As you get vaccinated upon your turn, you must know and follow the safety guidelines before and after your shot because it has now become necessary that we are at our preventive best.

What to do after getting vaccinated?
While those of us who have gotten vaccinated know the procedure of staying at the vaccination centre for 20-30 minutes, it is usually to check that we aren't developing or experiencing any side effects. Severe side effects might be rare but they can include itching, fainting, vomiting, some allergic or counter reaction to the injection, difficulty in breathing etc. The waiting period is meant to help you in times like these so that you have a qualified helping hand immediately at your disposal.
Currently being fully vaccinated is a big achievement for us, our family and our community because by getting vaccinated we are not only protecting ourselves but our loved ones around us too.
Now, when you are vaccinated, remember this might hamper your ability to perform your daily activities for the next 2-3 days. Some people may develop mild fever or redness and a slight tingling sensation at the site of the injection, you can take a paracetamol to calm that pain and sensation.
After getting vaccinated, even if you aren't able to relate to any of these symptoms, it is important to keep yourself fully hydrated and drink lots of fluids.
If the pain or fever persists, you may consult your doctor.
If you feel your arm is aching and want to reduce that pain, you may apply a cool and clean cloth over the injected area, to help ease the discomfort.
Avoid drinking alcohol and smoking for at least 2-3 days after getting vaccinated.
Wear light clothes and swing your arm a little to avoid inflammation.
Download your vaccination certificate and keep it safely with you, digitally or in hard copy.
The vaccine is a shield against the coronavirus; it is very important and can't be stressed enough that even after getting fully vaccinated, you have to remember to continue taking preventive measures, especially in crowded places. Also, antibodies do not develop immediately after the first or second dose, hence there can be no leniency in following the COVID safety protocols.
Antibodies against COVID-19 can be detected in your body for months. Even if the antibody counts decline, there is no need to worry. Because your white blood cells multiply rapidly to produce more white blood cells and antibodies whenever a COVID-19 virus infects your body again. It is important to receive a full course of vaccination to achieve this kind of immunity.
So, continue to follow these for self protection:
Wear a mask when stepping out of your house
Carry a hand sanitizer with you always and wash your hands for a minimum of 20 seconds as often as you can
Maintain social distancing to prevent the virus from being transmitted to others or from others
Many people out there are still skeptical about getting vaccinated, knowing the mild symptoms that follow after being given the shot, it is quite natural but understanding some do's and don'ts after getting vaccinated helps a lot. If you are fully vaccinated, you might resume activities that you used to do before the pandemic, you can also travel following the state or the local government's rules and regulations. All of us want to go back to our normal lives especially after how the last year has passed. But in order to do that, we must get fully vaccinated to stay safe and sail through life during the pandemic.
Stay safe! Stay strong!
Most Viewed
Featured News