Home > Prolactin Test in Lucknow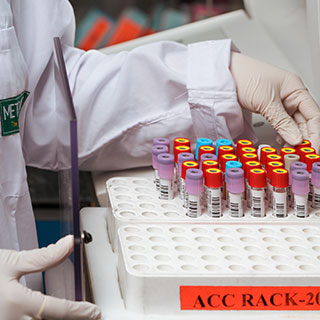 Prolactin Test in Lucknow
Prolactin is a test that measures the amount of hormone called Prolactin in the blood. Prolactin is produced by the Pituitary gland. Higher levels of Prolactin are normal during pregnancy and breastfeeding but is considered abnormal in men and non-pregnant women
Blood Collection at Home
Smart Report with Trend Analysis
8-stage MET Protocol
Certified CAP & NABL Labs
Prolactin is a hormone produced by pituitary gland; an organ found at the base of the brain. Prolactin is usually present in low amounts in men and non-pregnant women. Prolactin is often found in higher levels in pregnant and breast-feeding women. The primary role of prolactin is to promote the production of breast milk. This test measures the amount of prolactin in the blood. When levels are higher in non-pregnant women and men, unexplained nipple discharge is seen, and this test is used for investigation.
The test is ordered if you display the following symptoms
Symptoms of Prolactinoma: Unexplained discharge from the nipple, frequent headaches, visual impairment
A woman experiencing irregular menstrual periods; this is also a routinely ordered test in the diagnosis of PCOS (Polycystic Ovarian Syndrome)
To identify the cause for decreased libido in men or if testosterone test results are lower than normal
The pituitary gland is in the base of the brain and produces prolactin. At times, prolactinoma, a tumor develops in the gland that leads to excessive production of prolactin. Depending on the size and the position of the tumor, it may put pressure on the optic nerve leading to headaches and interferes with vision. These tumors are benign and causes excess prolactin to be released in the blood; symptoms of which includes unexplained nipple discharge in non-pregnant women and decreased libido and infertility in men.
Reference Values Of Prolactin Test
Reference value for Prolactin is as below
Normal level in Males: 2 to 18 nanograms per milliliter (ng/mL)
Normal levels in Nonpregnant females: 2 to 29 ng/mL.
Normal levels in Pregnant females: 10 to 209 ng/mL
Interpretations
Men and non-pregnant women will normally present with small amounts of prolactin in their blood. Prolactin levels do, however, need to be evaluated based on the time of day that they are collected. The levels will show 24-hour variation, rising during sleep and at its peak in the morning. Ideally, a person's blood sample for prolactin testing should be drawn after 3 to 4 hours after waking up as prolactin levels tend to fluctuate during sleep and after waking up.
Hyperprolactinemia or high level of prolactin is seen during pregnancy and in breastfeeding mothers. Prolactin promotes lactation and prolactin levels drop after the mother stops breastfeeding.
A high level may also be seen with:
• Tumors that produce and release prolactin (prolactinomas)
• The eating disorder anorexia nervosa
• Diseases of the hypothalamus
• Hypothyroidism
• Kidney disease
• Liver disease
• Polycystic ovary syndrome
• Other pituitary diseases and tumors
Levels of prolactin that are below normal are not usually treated but may be indicative of a general reduction in pituitary activity.
Basket
(0 items)
TruHealth Checkups
Find the most suitable checkup for you from our range of TruHealth Checkups
Why Metropolis?
Metropolis has a team of 200 senior pathologists and over 2000 technicians delivering diagnostic solutions in the areas of routine, semi specialty and super specialty domains like Oncology, Neurology, Gynaecology, Nephrology and many more.
We offer a comprehensive range of 4000+ clinical laboratory tests and profiles, which are used for prediction, early detection, diagnostic screening, confirmation and/or monitoring of the disease.
Trusted by Leading Doctors & Hospitals
Over 2000+ Scientific Officers
Proficiency Testing for Accurate Reports
Frequently Asked Questions
Our Blog
Take a look at some of the related content from our blog
What Our Customers Say
We're satisfying our customers every day since 1980

Bena Patel

Sharmila Vaishnav

Ishwarakrishnan

Chris Bessell

Prabhu Gopalakrishnan

Kedar Ambekar
Our Global Reference Lab
Accreditations