Home > AChR- Acetyl Choline Receptor Antibodies Test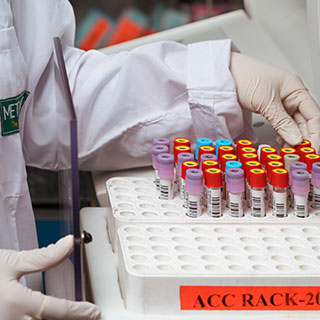 AChR- Acetyl Choline Receptor Antibodies Test
This test detects and measures Acetylcholine Receptor antibodies in the blood.
Blood Collection at Home
Smart Report with Trend Analysis
8-stage MET Protocol
Certified CAP & NABL Labs
To help diagnose a condition called "myasthenia gravis (MG)" that results from the immune attack to the receptors, and to distinguish between MG and other conditions with overlapping symptoms.
Your doctor may recommend this test for you if you are suffering from myasthenia gravis (MG). the symptoms include:
Shortness of breath.
Trouble while speaking
Baggy eyelids.
Unsteady walk.
Weakness in the arms, legs, neck, and fingers.
Acetylcholine receptor (AChR) antibodies are antibodies produced by the immune against its own proteins system (called autoantibodies), mistakenly produced by the immune system to target proteins called acetylcholine receptors that are located on skeletal muscles. This test checks and measures AChR antibodies in the blood.
Reference Values Of AChR- Acetyl Choline Receptor Antibodies Test
| | |
| --- | --- |
| Interpretation | Value nmol/L |
| Normal Level | 0-0.25 |
| Borderline level | 0.26-0.40 |
| Positive level | > 0.4 |
Interpretations
Normally, AChR antibodies aren't present in the blood. They are autoantibodies, with their presence in the blood indicative of an autimmune response-where the body mistakenly produces antibodies targeted against its own components. If a person presents with these antibodies along with symptoms of MG, then the patient is most likely a victim of this disease.
However, a negative test result does not rule out MG. Literally half of the cases of ocular MG (affecting only eye-related muscles) and about 10-15% of those with generalized MG show negative results for AChR antibodies. Results from other tests for autoantibodies, such as anti-MuSK (muscle-specific kinase) antibody test and anti-striated muscle antibody test, may help in definitive diagnosis. As high as 70% of people suspected to have generalized MG but who are negative for AChR antibodies will be positive for anti-MuSK antibodies.
Basket
(0 items)
TruHealth Checkups
Find the most suitable checkup for you from our range of TruHealth Checkups
Why Metropolis?
Metropolis has a team of 200 senior pathologists and over 2000 technicians delivering diagnostic solutions in the areas of routine, semi specialty and super specialty domains like Oncology, Neurology, Gynaecology, Nephrology and many more.
We offer a comprehensive range of 4000+ clinical laboratory tests and profiles, which are used for prediction, early detection, diagnostic screening, confirmation and/or monitoring of the disease.
Trusted by Leading Doctors & Hospitals
Over 2000+ Scientific Officers
Proficiency Testing for Accurate Reports
Frequently Asked Questions
Our Blog
Take a look at some of the related content from our blog
What Our Customers Say
We're satisfying our customers every day since 1980

Bena Patel

Sharmila Vaishnav

Ishwarakrishnan

Chris Bessell

Prabhu Gopalakrishnan

Kedar Ambekar
Our Global Reference Lab
Accreditations

AChR- Acetyl Choline Receptor Antibodies Test