Home > Serum Albumin Test in Sirsa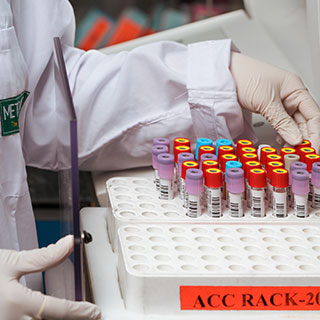 Serum Albumin Test in Sirsa
The serum albumin test looks at the levels of albumin in a person's blood.
Blood Collection at Home
Smart Report with Trend Analysis
8-stage MET Protocol
Certified CAP & NABL Labs
Albumin, although not specific, can serve as one of the tests to assess liver function. Apart from the symptoms mentioned above, the test also gives an indication of chronic pancreatitis, liver or kidney disease. If you are suffering from these conditions, albumin tests can indicate how effective the treatment is and whether or not there is any improvement.
A Serum Albumin Test allows your doctor to review the functioning of your liver. Your doctor may recommend this test for you if you show the symptoms of liver disease. They include:
Jaundice (yellow eyes and skin)
Fatigue
Unexpected weight loss
Swelling under your eyes, legs and stomach
Proteins play an extremely critical role in carrying out various functions, one of them is maintaining fluid balance. Albumin, one of the key proteins that keeps the fluids intact in blood vessels preventing their leakage. Albumin acts as a carrier for several nutrients, hormones, and proteins required for blood clotting, and it transports these contents to different cells of the body, thus providing nutrition to the cells. If albumin level in your blood is not below normal, it indicates something wrong with your liver and kidney. With a simple blood test, your doctor can find out your albumin levels and analyse the implications if the levels are not found to be normal.
Reference Values Of Serum Albumin Test
Reference Value depends on age, gender and medical history.
The normal range for serum albumin is between 3.5 and 5.0 g/dL (grams per deciliter)
Interpretations
Low albumin primarily points out towards a kidney or liver disorder. If the liver is gone bad, it can't produce albumin as result of liver dysfunction, and further, liver specific tests are needed to vet the findings of plausible liver damage. In case of any kidney, if the blood filtering units of the kidney (nephrons) are structurally and functionally intact, they don't filter out albumin in urine. But in times when the nephrons are damaged, excess albumin can be filtered-reducing the blood levels, which can be confirmed with kidney specific examination. However, albumin shouldn't be a specific marker for liver damage, as low albumin levels are detected only in cases of severe liver damage or cirrhosis.
There are several other conditions because of which low albumin levels can be seen which are inflammation, shock, and malnutrition. They can also indicate some disorder of the intestine, where it's not able to absorb proteins.
A/G Ratio
Normally, the/g (albumin to globulin) ratio exceeds the value of 1. If the ratio is too low or too high, additional testing must be done to determine the cause and diagnosis, and is indicative of several diseases from autoimmune disorders to blood cancers (leukaemia).
Basket
(0 items)
TruHealth Checkups
Find the most suitable checkup for you from our range of TruHealth Checkups
Why Metropolis?
Metropolis has a team of 200 senior pathologists and over 2000 technicians delivering diagnostic solutions in the areas of routine, semi specialty and super specialty domains like Oncology, Neurology, Gynaecology, Nephrology and many more.
We offer a comprehensive range of 4000+ clinical laboratory tests and profiles, which are used for prediction, early detection, diagnostic screening, confirmation and/or monitoring of the disease.
Trusted by Leading Doctors & Hospitals
Over 2000+ Scientific Officers
Proficiency Testing for Accurate Reports
Frequently Asked Questions
Our Blog
Take a look at some of the related content from our blog
What Our Customers Say
We're satisfying our customers every day since 1980

Bena Patel

Sharmila Vaishnav

Ishwarakrishnan

Chris Bessell

Prabhu Gopalakrishnan

Kedar Ambekar
Our Global Reference Lab
Accreditations