Home > Sgot Test in Powai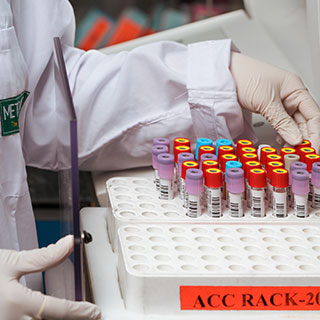 SGOT test is done to test the functioning of liver
Blood Collection at Home
Smart Report with Trend Analysis
8-stage MET Protocol
Certified CAP & NABL Labs
SGOT is typically used as a Liver Function Test; i.e. to detect liver damage. SGOT is almost always ordered along with SGPT. Symptoms of a liver disorder usually include weakness, fatigue, loss of appetite, abdominal swelling, pain, jaundice etc.
SGOT test is also ordered for people who are at high risk of liver damage. Often liver damage does not show symptoms for long, and go unnoticed. In such situations, regular checking for SGOT and SGPT can detect the abnormalities early, and helps in effective management of the disorder. This is critical especially in patients at high risk of liver disorders, such as people with obesity, diabetes, heavy drinkers, or those taking certain medications causing harm to the liver in the long-term.
Your doctor may recommend this test for you if you show signs of liver damage. They include:
Weakness
Fatigue
Loss of appetite
Abdominal swelling
Abdominal pain,
Jaundice
SGOT is also called as aspartate aminotransferase (AST) is an enzyme (protein) normal found in liver and heart. High levels of SGOT are seen in the blood when the liver cells are damaged (ex-viral hepatitis) or when there is exertion on the heart muscles (ex. heart attack), when SGOT leaks into the blood.
SGOT is an important enzyme used to test the liver function.
Reference Values Of Sgot Test
Reference Value depends on age, gender and medical history.
Typically the range for normal SGOT is reported between 10 to 40 units per liter
Interpretations
Very high levels of SGOT (more than 10 times normal) are indicative of liver disorders such as acute hepatitis. Levels of SGOT is over 1000 times normal in an event of exposure to drugs or other substances that are toxic to the liver as well as in conditions that can cause decreased blood flow (ischemia) to the liver.
With chronic hepatitis, SGOT levels may not go as high and remain at levels which are roughly 4 times the normal range, and are more likely to remain normal than SGPT levels.
In most types of liver disease, the SGOT level is higher than SGPT and the ratio will be less than 1. However in certain liver disorders like alcoholic hepatitis and cirrhosis, the ratio can go higher.
Basket
(0 items)
TruHealth Checkups
Find the most suitable checkup for you from our range of TruHealth Checkups
Why Metropolis?
Metropolis has a team of 200 senior pathologists and over 2000 technicians delivering diagnostic solutions in the areas of routine, semi specialty and super specialty domains like Oncology, Neurology, Gynaecology, Nephrology and many more.
We offer a comprehensive range of 4000+ clinical laboratory tests and profiles, which are used for prediction, early detection, diagnostic screening, confirmation and/or monitoring of the disease.
Trusted by Leading Doctors & Hospitals
Over 2000+ Scientific Officers
Proficiency Testing for Accurate Reports
Frequently Asked Questions
Our Blog
Take a look at some of the related content from our blog
What Our Customers Say
We're satisfying our customers every day since 1980

Bena Patel

Sharmila Vaishnav

Ishwarakrishnan

Chris Bessell

Prabhu Gopalakrishnan

Kedar Ambekar
Our Global Reference Lab
Accreditations