Home > Liver Function Test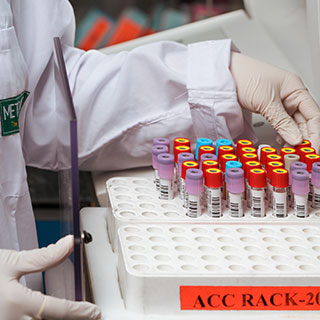 Liver Function tests are group of tests ordered to understand how well the Liver is performing
Blood Collection at Home
Smart Report with Trend Analysis
8-stage MET Protocol
Certified CAP & NABL Labs
As part of routine monitoring if you are hepatitis B or hepatitis C positive
Suspected drug and alcohol abuse
Liver Cirrhosis
Any gallbladder conditions
The most common Liver Function tests are Bilirubin, Albumin, ALT and AST. The doctor will order this test for you if he suspects that you may be suffering from a condition that is affecting your liver. A dark coloured urine or light-coloured stools may indicate damage to the liver cells. If you are suffering from Jaundice, the liver is closely monitored. Nausea, Vomiting, diarrhoea may also warrant a liver function test.
The liver is the organ that removes all toxic substances from your blood. When you take medicines, it is the liver that helps you detoxify the substances. The liver is unique because it can regenerate itself. Even when a part of liver is damaged, it can regenerate itself from healthy cells. Alcohol and abuse of drugs puts a strain on the liver cells and can cause irreversible damage. Hepatitis primarily affects the liver cells. The liver also produces proteins, enzymes, store vitamins, produces blood clotting factors and helps maintain hormones. The liver also produces bile which helps in digesting fats. Liver function tests are used to understand the health of the liver and its optimal functioning.
LFT Test (liver function test) Normal Range
Normal levels of AST and ALT may slightly vary depending on the individual laboratory's reference values. Typically, the range for normal AST is reported between 10 to 40 units per litre and ALT between 7 to 56 units per litre. Mild elevations are generally considered to be 2-3 times higher than the normal range.
Interpretations
There may be damage to the liver when the values of AST and ALT are higher. It is observed that in hepatitis, ALT results are higher than AST. Your doctor may also order a Creatinine Kinase or a CK test or a troponin test. A creatine kinase test confirms damage to the muscles and elevated troponin levels means that there is damage to the heart.
Basket
(0 items)
TruHealth Checkups
Find the most suitable checkup for you from our range of TruHealth Checkups
Why Metropolis?
Metropolis has a team of 200 senior pathologists and over 2000 technicians delivering diagnostic solutions in the areas of routine, semi specialty and super specialty domains like Oncology, Neurology, Gynaecology, Nephrology and many more.
We offer a comprehensive range of 4000+ clinical laboratory tests and profiles, which are used for prediction, early detection, diagnostic screening, confirmation and/or monitoring of the disease.
Trusted by Leading Doctors & Hospitals
Over 2000+ Scientific Officers
Proficiency Testing for Accurate Reports
Frequently Asked Questions
Our Blog
Take a look at some of the related content from our blog
What Our Customers Say
We're satisfying our customers every day since 1980

Bena Patel

Sharmila Vaishnav

Ishwarakrishnan

Chris Bessell

Prabhu Gopalakrishnan

Kedar Ambekar
Our Global Reference Lab
Accreditations