Home > Lupus Anticoagulants LAC Test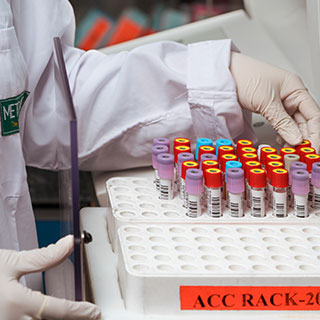 Lupus Anticoagulants LAC Test
Lupus anticoagulants test measures the amount of the antibody in the blood.
Blood Collection at Home
Smart Report with Trend Analysis
8-stage MET Protocol
Certified CAP & NABL Labs
The tests are principally used to diagnose the autoimmune disorder "systemic lupus erythematosus (SLE), commonly known as lupus. To help find more information about the cause of a blood clot (thrombotic episode); to evaluate a prolonged partial thromboplastin time (PTT); to help determine the cause of recurrent miscarriages and antiphospholipid syndrome (since these antibodies attack phospholipids), the tests are not used to diagnose the chronic autoimmune disorder, which lasts for longer period of time than lupus.
Your doctor may recommend this test for you if you show signs of a blood clot in your veins mainly near your arms and legs, your lungs and stomach or kidneys. The test is also recommended when you have a prolonged PTT test of unknown reason and recurrent miscarriages
Whenever a foreign substance such as a bacteria, virus or any chemical enters our body, our body recognises it as an "antigen" and produces specific chemicals known as antibodies which attack it. However, in some unusual circumstances, our body might produce antibodies against its own cells and tissues, mistakenly, known as "autoantibodies". Lupus anticoagulants (LA) are autoantibodies produced by the immune system that wrongly attack certain components of the body's own cells. They specifically target chemicals known as "phospholipids" as well as the proteins that are associated with phospholipids that are found in the outer-most layer of cells. These autoantibodies by an undiscovered mechanism cause trouble in the blood clotting process and increase a person's risk of developing a blood clot. Lupus anticoagulant testing includes a series of tests that detect the presence of LA in the blood.
Reference Values Of Lupus Anticoagulants LAC Test
Normal Ranges range from 20 to 39 GPL or MPL units.
Interpretations
Lupus anticoagulant testing is often done concomitantly with others tests for cardiolipin antibody and anti-beta2-glycoprotein I antibodies, which detect "antiphospholipid syndrome". The results of both these tests are collectively analysed, along with specific symptoms and results of physical and medical examinations, which give an idea of several conditions.
Basket
(0 items)
TruHealth Checkups
Find the most suitable checkup for you from our range of TruHealth Checkups
Why Metropolis?
Metropolis has a team of 200 senior pathologists and over 2000 technicians delivering diagnostic solutions in the areas of routine, semi specialty and super specialty domains like Oncology, Neurology, Gynaecology, Nephrology and many more.
We offer a comprehensive range of 4000+ clinical laboratory tests and profiles, which are used for prediction, early detection, diagnostic screening, confirmation and/or monitoring of the disease.
Trusted by Leading Doctors & Hospitals
Over 2000+ Scientific Officers
Proficiency Testing for Accurate Reports
Frequently Asked Questions
Our Blog
Take a look at some of the related content from our blog
What Our Customers Say
We're satisfying our customers every day since 1980

Bena Patel

Sharmila Vaishnav

Ishwarakrishnan

Chris Bessell

Prabhu Gopalakrishnan

Kedar Ambekar
Our Global Reference Lab
Accreditations

Lupus Anticoagulants LAC Test