Home > ESR Test in Vidyavihar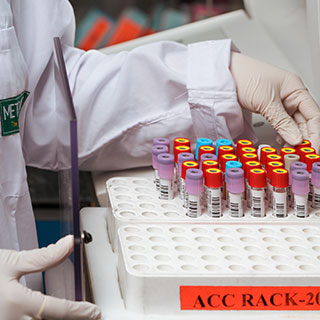 ESR test is done to understand if your body is experiencing any inflammation.
Blood Collection at Home
Smart Report with Trend Analysis
8-stage MET Protocol
Certified CAP & NABL Labs
ESR is a routine generic test that provides overall information of the body's functioning and doesn't indicate any specific condition. The advantage of ESR is the quick turnaround time and can rule out or indicate a presence of certain disorders and help the doctor in further diagnosis.
You might need an ESR test if you experience symptoms of inflammatory conditions like arthritis or inflammatory bowel disease (IBD). These symptoms can include:
Joint pain or stiffness
Pain in the shoulders
Sudden weight loss
Loose motions
Erythrocyte Sedimentation Rate is the rate at which red blood cells deposit at the bottom of the container (sediment) in a time period of 1 hour. Abnormal results indicate a wide range of disorder, without implying any specific condition or diagnose it.
Reference Values Of ESR Test
Reference range depends on age, gender and medical history. The normal range is 0-22 mm/hr for men and 0-29 mm/hr for women.
Interpretations
A single elevated ESR, without any symptoms of a specific disease, is not informative of any specific medical condition. Furthermore, a normal result does not rule out any abnormalities. Moderately elevated ESR can indicate several range of possibilities such as abnormalities such inflammation anemia, infection, and also situations such as pregnancy, or aging.
A very high ESR usually indicative of a severe infection marked by an increase in globulins, polymyalgia rheumatica or temporal arteritis. A health practitioner will typically use other follow-up tests, such as blood cultures, depending on the person's symptoms to interpret and form a final diagnosis. People with myeloma or tumors that make large amounts of immunoglobulins typically have very high ESRs albeit they do not have inflammation.
Basket
(0 items)
TruHealth Checkups
Find the most suitable checkup for you from our range of TruHealth Checkups
Why Metropolis?
Metropolis has a team of 200 senior pathologists and over 2000 technicians delivering diagnostic solutions in the areas of routine, semi specialty and super specialty domains like Oncology, Neurology, Gynaecology, Nephrology and many more.
We offer a comprehensive range of 4000+ clinical laboratory tests and profiles, which are used for prediction, early detection, diagnostic screening, confirmation and/or monitoring of the disease.
Trusted by Leading Doctors & Hospitals
Over 2000+ Scientific Officers
Proficiency Testing for Accurate Reports
Frequently Asked Questions
Our Blog
Take a look at some of the related content from our blog
What Our Customers Say
We're satisfying our customers every day since 1980

Bena Patel

Sharmila Vaishnav

Ishwarakrishnan

Chris Bessell

Prabhu Gopalakrishnan

Kedar Ambekar
Our Global Reference Lab
Accreditations