Home > Calcium Test in Vidyavihar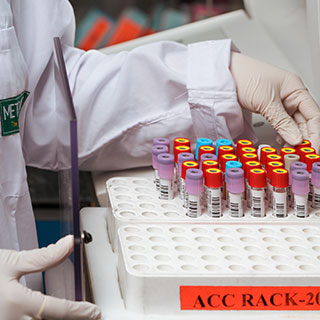 Calcium Test in Vidyavihar
Calcium test is used to measure the amount of calcium in your blood.
Blood Collection at Home
Smart Report with Trend Analysis
8-stage MET Protocol
Certified CAP & NABL Labs
Calcium is one among the most common tests ordered in basic or routine health screening. Blood Calcium test is typically ordered to diagnose conditions relating to bone, heart, nerves, kidney and teeth. Calcium test can be ordered by the doctor if certain conditions such as thyroid disorders, bone diseases, neurological disorders, and kidney stones are suspected
A calcium test is often recommended by doctors to screen and diagnose any conditions related to bones, heart, kidney, nerves and your teeth. Your doctor may also recommend this test if you show signs of hyperthyroidism
Most of the calcium that is present in the blood exists in combination with phosphorous. Calcium and Phosphorus together along with proteins and forms a specialized structure at the bones, which makes them strong. Hence, calcium is an important component in bone health. About 1% of all calcium within the body is present in blood and tissues and plays many important roles. Calcium is critically important for blood clotting, stabilising blood pressure, normal brain function and also for communication of messages within the cells. The role of calcium within the body is additionally tightly linked to that of vitamin D.
Reference Values Of Calcium Test
Normal values: 8.5 to 10.2 mg/dL
Reference Value depends on multiple factors such as age, gender and medical history.
Interpretations
Blood Calcium levels only indicate the amount of calcium circulating in the blood, without providing any information of the calcium level in bones.
High Total Calcium or Hypercalcemia may be indicative of a variety of conditions as below:
A benign tumor in the parathyroid gland
Tuberculosis
HIV AIDS
Excess vitamin D intake
Low level of calcium may be due to
Kidney Failure
Vitamin D Deficiency
Pancreatic Disorders
Poor intake of dietary calcium
Increased level of phosphorous in blood
Basket
(0 items)
TruHealth Checkups
Find the most suitable checkup for you from our range of TruHealth Checkups
Why Metropolis?
Metropolis has a team of 200 senior pathologists and over 2000 technicians delivering diagnostic solutions in the areas of routine, semi specialty and super specialty domains like Oncology, Neurology, Gynaecology, Nephrology and many more.
We offer a comprehensive range of 4000+ clinical laboratory tests and profiles, which are used for prediction, early detection, diagnostic screening, confirmation and/or monitoring of the disease.
Trusted by Leading Doctors & Hospitals
Over 2000+ Scientific Officers
Proficiency Testing for Accurate Reports
Frequently Asked Questions
Our Blog
Take a look at some of the related content from our blog
What Our Customers Say
We're satisfying our customers every day since 1980

Bena Patel

Sharmila Vaishnav

Ishwarakrishnan

Chris Bessell

Prabhu Gopalakrishnan

Kedar Ambekar
Our Global Reference Lab
Accreditations