Home > Testosterone Free Test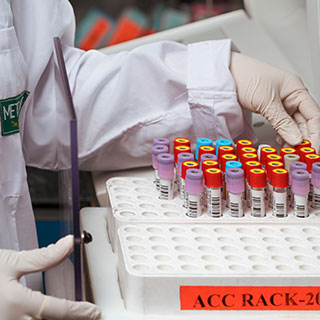 The testosterone free test measures the amount of testosterone in the blood.
Blood Collection at Home
Smart Report with Trend Analysis
8-stage MET Protocol
Certified CAP & NABL Labs
To detect an abnormal testosterone level in males and females; in males, to help diagnose the cause of erectile dysfunction or the inability of your partner to get pregnant (infertility); in females, to help diagnose the cause of masculine physical features (virilization), infertility, or polycystic ovary syndrome (PCOS); in children, to help determine the cause of genitals that are not clearly male or female (ambiguous genitalia) or delayed or early puberty
Your doctor may recommend this test for you if he sees the signs of high/low testosterone in the blood:
The signs for low testosterone in men include:
Low sex drive
Fatigue
Hair loss
Trouble getting an erection
Loss of muscle mass
The signs for low testosterone in women include:
Fertility concerns
Low sex drive
Absence of menstrual cycle
The signs for high testosterone in women include:
Acne
Excessive facial hair
Deep voice
Male type baldness
The main sex hormone (androgen) in men is called Testosterone. It is responsible for male physical characteristics. Although it is considered to be a "male" sex hormone, it is present in the blood of women as well. This test measures the amount of testosterone in the blood.
Testosterone is produced by special endocrine tissue (the Leydig cells) in the male testicles. It is also produced by the adrenal glands in both men and women and, in small amounts, by the ovaries in women.
In males, testosterone stimulates development of secondary sex characteristics, including enlargement of the penis, growth of body hair, muscle development, and a deepening voice. It is present in large amounts in males during puberty and in adult males to regulate the sex drive and maintain muscle mass. In women, testosterone is converted to estradiol, the main sex hormone in females.
Reference Values Of Testosterone Free Test
Testosterone levels change depending on your age, gender, medical condition and treatment if any. Your doctor will help you interpret the values.
Interpretations
A low testosterone level (hypogonadism) could also be due to:
Hypothalamic or pituitary disease
Genetic diseases can cause decreased testosterone production in young men (Klinefelter, Kallman, and Prader-Willi syndromes) or testicular failure and infertility (as in myotonic dystrophy , a type of muscular dystrophy) Impaired testosterone production due to acquired damage to the testes, like from alcoholism, physical injury, or viral diseases like mumps, Chronic disease, like diabetes.
Men who are diagnosed with consistently low testosterone levels and have related signs and symptoms could also be prescribed testosterone replacement therapy by their healthcare providers. However, testosterone supplements aren't approved by the Food and Drug Administration to encourage strength, athletic performance, or prevent problems from aging. Use for these purposes may be harmful.
Increased testosterone levels in males can indicate:
Testicular tumours
Adrenal tumours that are producing testosterone
Use of androgens (also called anabolic steroids)
Early puberty of unknown cause in boys
Congenital adrenal hyperplasia in babies and children
In women, testosterone levels are normally low. Increased testosterone levels can indicate:
PCOS
Ovarian or adrenal gland tumour
Congenital adrenal hyperplasia
Basket
(0 items)
TruHealth Checkups
Find the most suitable checkup for you from our range of TruHealth Checkups
Why Metropolis?
Metropolis has a team of 200 senior pathologists and over 2000 technicians delivering diagnostic solutions in the areas of routine, semi specialty and super specialty domains like Oncology, Neurology, Gynaecology, Nephrology and many more.
We offer a comprehensive range of 4000+ clinical laboratory tests and profiles, which are used for prediction, early detection, diagnostic screening, confirmation and/or monitoring of the disease.
Trusted by Leading Doctors & Hospitals
Over 2000+ Scientific Officers
Proficiency Testing for Accurate Reports
Frequently Asked Questions
Our Blog
Take a look at some of the related content from our blog
What Our Customers Say
We're satisfying our customers every day since 1980

Bena Patel

Sharmila Vaishnav

Ishwarakrishnan

Chris Bessell

Prabhu Gopalakrishnan

Kedar Ambekar
Our Global Reference Lab
Accreditations