Home > Tacrolimus blood test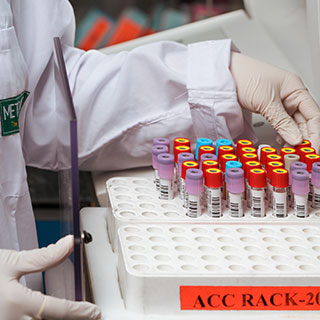 Tacrolimus test is ordered to determine the level of the drug tacrolimus in your blood. This test is ordered before the doctor puts you on therapy. This is an immune suppressant drug that is usually given before a transplant. A blood test can help the clinician in arriving at an optimal dosage for your therapy as Tacrolimus at higher concentrations can be toxic.
Blood Collection at Home
Smart Report with Trend Analysis
8-stage MET Protocol
Certified CAP & NABL Labs
To determine the correct Tacrolimus dosage for you before beginning therapy
Tacrolimus is a specialised test that is only conducted on patients scheduled for a Transplant. The drug tacrolimus helps reduce the chances of organ rejection in a transplant patient. Tacrolimus drug is administered twice a day before or after meals. It is important to maintain optimal levels of this drug. Too little means the organ may be rejected and higher dosages in the blood could lead to toxicity.
Our body has a robust defence or immune system, whenever our body senses any agent that doesn't belong to its own, it initiates a series of attacks to get rid of that agent. These series of attacks are termed as "immune responses" or "immune attack". However, the body doesn't distinguish between any external agents, and attacks each of them. During certain surgeries like kidney or liver transplant, where the respective organs from other person's body are planted into the needy patient or "recipient", our body can still recognise the newly transplanted organ as foreign and attack it. This phenomenon is termed as "organ rejection". To avoid that certain medications are given to patients, termed as "immunosuppressants". Tacrolimus is an immunosuppressive drug that is given orally or intravenously to people who have had a kidney, liver, heart, or other organ transplant. It is a potent drug that helps to prevent rejection of the transplanted organ as a result of immune attack by the body. This test measures the amount of tacrolimus in the blood.
Reference Values Of Tacrolimus blood test
Default Therapeutic Reference Range: 5.0 – 15.0 ug/L
Interpretations
A concentration that is higher than the established therapeutic range may put the patients at risk of toxicity and can cause harm to the kidney and other organs. A concentration that is too can lead to failure of the efforts to prevent organ rejection. Side effects may be seen at any dosage but tend to be more severe with a higher tacrolimus level.
The therapeutic range established by a laboratory will depend on two factors-the method used to check the tacrolimus level in the blood and the type of transplant. Each laboratory may use different methods for tacrolimus analysis and set their own range for normal values. Your doctor will usually send samples consistently to the same laboratory and refer to the range of values determined by them. The values are evaluated collectively along with physical examination and any symptoms if present.
Basket
(0 items)
TruHealth Checkups
Find the most suitable checkup for you from our range of TruHealth Checkups
Why Metropolis?
Metropolis has a team of 200 senior pathologists and over 2000 technicians delivering diagnostic solutions in the areas of routine, semi specialty and super specialty domains like Oncology, Neurology, Gynaecology, Nephrology and many more.
We offer a comprehensive range of 4000+ clinical laboratory tests and profiles, which are used for prediction, early detection, diagnostic screening, confirmation and/or monitoring of the disease.
Trusted by Leading Doctors & Hospitals
Over 2000+ Scientific Officers
Proficiency Testing for Accurate Reports
Frequently Asked Questions
Our Blog
Take a look at some of the related content from our blog
What Our Customers Say
We're satisfying our customers every day since 1980

Bena Patel

Sharmila Vaishnav

Ishwarakrishnan

Chris Bessell

Prabhu Gopalakrishnan

Kedar Ambekar
Our Global Reference Lab
Accreditations