Home > Protein Electrophoresis Test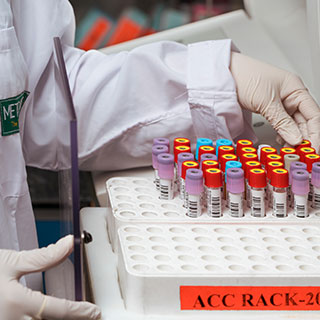 Protein Electrophoresis Test
Protein electrophoresis test measures the amount of globulins protein in the blood.
Blood Collection at Home
Smart Report with Trend Analysis
8-stage MET Protocol
Certified CAP & NABL Labs
To help discover or monitor several disease conditions that can lead to protein loss in the body. Lower levels of albumin in the blood can point to problems with several organs such as liver, kidney etc. along with several disease conditions.
Your doctor may recommend the test for you if you are experiencing symptoms of a condition affecting the proteins in the blood serum. The symptoms are:
Sudden weight loss
Bone pain or recurrent fractures
Tiredness
Nausea
Constipation
Frequent Excessive thirst
Back pain
Proteins are crucial building blocks of all cells and tissues. They play a role in building various structures in our body, as well as carrying out many important processes for our body to function normally. Our blood and other body fluids contain several proteins that serve diverse functions, such as transport of nutrients, removal of toxins, control of metabolic processes such as digestion, and defence against external substances. Protein electrophoresis is a method for separating these proteins based on their size and electric charge. Since albumin is the most important and abundantly available protein in the body, it's the most commonly measured protein in the blood, followed by globulin. It has various forms depending on the structure.
Reference Values Of Protein Electrophoresis Test
Albumin: 3.3-5.7 g/dL
a- 1: 0.1-0.4 g/dL
a- 2: 0.3-0.9 g/dL
b- 2: 0.7-1.5 g/dL
gamma: 0.5-1.4 g/dL
Interpretations
Normal
The normal Ranges aforementioned are just used as a reference. These ranges vary within different labs, and your lab may use a different range for normal Ranges. Your lab report generally mentions the normal Ranges used for that lab, mentioned against the Ranges estimated for your blood sample. Also, your doctor will calculate your results based on your health and other factors. This means even though if a Range doesn't fall within the normal range, it may still be considered normal by your lab as would take into account some other factors impacting the Ranges.
High protein levels in blood can indicate following conditions. Some of the most common are shown here.
High albumin: Dehydration
High alpha-1 globulin: Infection; inflammation
High alpha-2 globulin: Inflammation; kidney disease
High beta globulin: Very high cholesterol; low iron (iron-deficiency anaemia)
High gamma globulin: Irritation; infection; liver disorder; some forms of cancer
Low protein levels, albumin and globulin, may be caused by many conditions. Some of the most common are shown here.
Low albumin: Poor nourishment; inflammation; liver disorder; kidney disease
Low alpha-1 globulin: Severe inflammation; liver disorder
Low alpha-2 globulin: Thyroid issues; liver disease
Low beta globulin: Poor diet
Low gamma globulin: Bad immunity
Basket
(0 items)
TruHealth Checkups
Find the most suitable checkup for you from our range of TruHealth Checkups
Why Metropolis?
Metropolis has a team of 200 senior pathologists and over 2000 technicians delivering diagnostic solutions in the areas of routine, semi specialty and super specialty domains like Oncology, Neurology, Gynaecology, Nephrology and many more.
We offer a comprehensive range of 4000+ clinical laboratory tests and profiles, which are used for prediction, early detection, diagnostic screening, confirmation and/or monitoring of the disease.
Trusted by Leading Doctors & Hospitals
Over 2000+ Scientific Officers
Proficiency Testing for Accurate Reports
Frequently Asked Questions
Our Blog
Take a look at some of the related content from our blog
What Our Customers Say
We're satisfying our customers every day since 1980

Bena Patel

Sharmila Vaishnav

Ishwarakrishnan

Chris Bessell

Prabhu Gopalakrishnan

Kedar Ambekar
Our Global Reference Lab
Accreditations

Protein Electrophoresis Test