Home > FSH - Follicle Stimulating Hormone Test in Lucknow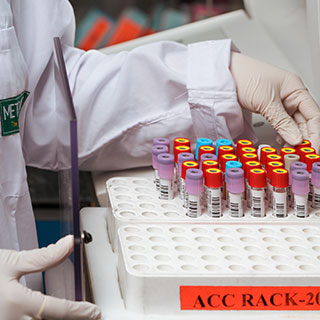 FSH - Follicle Stimulating Hormone Test in Lucknow
Follicle Stimulating Hormone Test measures the level of follicle-stimulating hormone (FSH) in your blood.
Blood Collection at Home
Smart Report with Trend Analysis
8-stage MET Protocol
Certified CAP & NABL Labs
FSH tests are conducted concomitantly with other hormone tests that include Luteinizing Hormone, Testosterone, Estradiol, Progesterone etc, and the results are collectively evaluated, since several combinations of outcomes can detect several conditions.

FSH along with other tests are used to identify the cause of infertility, diagnose underlying conditions linked with dysfunction of ovaries or testicles. FSH test can also detect abnormalities associated with pituitary gland or particularly the hypothalamus which is a prime source of FSH production.

FSH test in women is especially useful in determining the cause of menstrual irregularities, while in men; FSH levels are used to identify the reasons for low sperm count.

In Children, FSH test is usually conducted when they fail to enter puberty at an appropriate age or if they have entered the cycle precociously (much before the normal age)
If you are a woman, your doctor would recommend this test for you if:
You have not been able to get pregnant after trying regularly for a year
You have irregular menstrual cycle
You have stopped menstruating. This test will help find out if you have reached menopause or if you are in perimenopause
If you are a man, your doctor would recommend this test for you if:
You have not been able to help your wife conceive
You have decreased sex drive.
Your child might need the test if they have not reached puberty by the right age.
Follicle Stimulating Hormone is responsible for growth, maturation, and development of puberty and several reproductive processes of the body. The hormone is also useful in development of sperm in men and ovum (eggs) in female.
Reference Values Of FSH - Follicle Stimulating Hormone Test
| | |
| --- | --- |
| Gender / Phase | Value IU/L |
| Common Values: Men and Women | 1.4-15.4 |
| Follicular phase | 1.4-9.9 |
| Midcycle peak | 0.2-17.2 |
| Luteal phase | 1.1-9.2 |
| Post-Menopausal | 19.3-100.6 |
Interpretations
High FSH levels in women means the loss in the function ovaries to produce eggs, or ovarian failure or menopause. In men, High FSH levels indicate testicular dysfunction which owing to several reasons.
Low FSH values indicate that a woman is not producing eggs and in men indicates a low sperm count.
High and Low values could also indicate disfunctioning of the hypothalamus or the pituitary gland that is responsible for the release of FSH.
An increase in FSH in women may indicate a reduction in the production of healthy or good quality eggs and embryos for fertilization. A common reason for this is a woman's age. As women get older, fertility starts to decline and fewer eggs mature in a woman's ovaries. The quality of those that remain is lower than during earlier years.
Concomitantly with other tests for Iuteinizing hormone (LH), estradiol, and progesterone levels, the FSH level test helps determine a woman's ovarian reserve. The term ovarian reserve refers to a woman's age-related fertility potential. A high FSH level indicates lower chances for the woman to get pregnant, at a degree that is lower than expected for her age. However, it doesn't hinder her ability to conceive; just that she may experience additional hurdles in conceiving and may need fertility treatment.
Basket
(0 items)
TruHealth Checkups
Find the most suitable checkup for you from our range of TruHealth Checkups
Why Metropolis?
Metropolis has a team of 200 senior pathologists and over 2000 technicians delivering diagnostic solutions in the areas of routine, semi specialty and super specialty domains like Oncology, Neurology, Gynaecology, Nephrology and many more.
We offer a comprehensive range of 4000+ clinical laboratory tests and profiles, which are used for prediction, early detection, diagnostic screening, confirmation and/or monitoring of the disease.
Trusted by Leading Doctors & Hospitals
Over 2000+ Scientific Officers
Proficiency Testing for Accurate Reports
Frequently Asked Questions
Our Blog
Take a look at some of the related content from our blog
What Our Customers Say
We're satisfying our customers every day since 1980

Bena Patel

Sharmila Vaishnav

Ishwarakrishnan

Chris Bessell

Prabhu Gopalakrishnan

Kedar Ambekar
Our Global Reference Lab
Accreditations

FSH - Follicle Stimulating Hormone Test