Home > Blood Sugar Fasting Test in Jogeshwari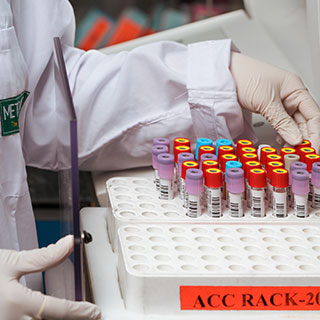 Blood Sugar Fasting Test in Jogeshwari
Fasting blood sugar is usually the preliminary test to check for pre-diabetes or diabetes. It is measured after 8 hours of fasting period. Diabetes is a grave health condition and if left unattended can damage eyes, kidneys, nerves, and blood vessels.
Blood Collection at Home
Smart Report with Trend Analysis
8-stage MET Protocol
Certified CAP & NABL Labs
When you have symptoms like frequent urination, excessive thirst, insatiable appetite, or a wound that does not heal, all this point to high blood sugar levels. It is also healthy practice to check for blood sugar levels once every year as part of your preventive healthcare regime.
Fasting blood sugar test is recommended when diabetes is suspected or to rule out diabetes during pregnancy. It is important to check for gestational diabetes as unchecked blood sugar levels have serious complications on the unborn baby.
Fasting Blood Sugar is one of the most common laboratory tests performed. This test measures, the amount of sugar (glucose) in your blood after 1 hours of fasting. Glucose is produced from the carbohydrate foods we eat and is the main source of energy for the body. Insulin, a hormone secreted by the pancreas regulates the amount of Glucose in your blood. When blood glucose levels go up, the pancreas secrete or release this insulin which performs the function of reducing the blood glucose by taking it inside the cells of our body.
Fasting Blood Sugar Level
Normal level is below 100 mg/dl.
A pre-diabetic condition measures 100 – 125 mg/dl and anything above 125 mg/dl is diagnosed as Diabetes.
Interpretations
High Level is indicative of Pre-diabetes or Diabetes.
Basket
(0 items)
TruHealth Checkups
Find the most suitable checkup for you from our range of TruHealth Checkups
Why Metropolis?
Metropolis has a team of 200 senior pathologists and over 2000 technicians delivering diagnostic solutions in the areas of routine, semi specialty and super specialty domains like Oncology, Neurology, Gynaecology, Nephrology and many more.
We offer a comprehensive range of 4000+ clinical laboratory tests and profiles, which are used for prediction, early detection, diagnostic screening, confirmation and/or monitoring of the disease.
Trusted by Leading Doctors & Hospitals
Over 2000+ Scientific Officers
Proficiency Testing for Accurate Reports
Frequently Asked Questions
Our Blog
Take a look at some of the related content from our blog
What Our Customers Say
We're satisfying our customers every day since 1980

Bena Patel

Sharmila Vaishnav

Ishwarakrishnan

Chris Bessell

Prabhu Gopalakrishnan

Kedar Ambekar
Our Global Reference Lab
Accreditations