Home > Insulin Fasting Cmia Serum Test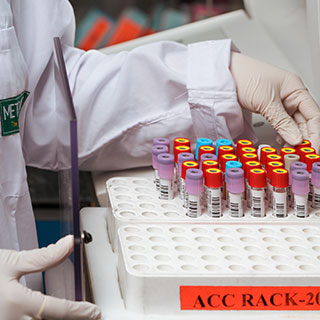 Insulin Fasting Cmia Serum Test
Insulin test measures the amount of insulin in your blood
Blood Collection at Home
Smart Report with Trend Analysis
8-stage MET Protocol
Certified CAP & NABL Labs
To help evaluate insulin production by the beta cells within the pancreas; to assist diagnose the presence of an insulin-producing tumour within the islet cells of the pancreas (insulinoma); to help determine the cause of low blood glucose, and to help identify insulin resistance, or to help determine when a type 2 diabetic might need to start taking insulin to supplement oral medications.
Your doctor may recommend this test for you if you show the following symptoms:
Extreme Sweating
Trembling
Irregular Heartbeat
Blurred Vision
Extreme Hunger
Insulin is a hormone produced and stored within the beta cells of the pancreas. It helps in regulating blood glucose levels by transportation and storage of glucose, the body's main source of energy. Insulin helps transport glucose from the blood to within cells, so that more glucose in the blood is utilised and taken inside the cells.
Reference Values Of Insulin Fasting Cmia Serum Test
2.6-24.9 mcIU/mL
Interpretations
The test result for PT depends on technique used; results are measured in seconds.
Most laboratories report PT results that are adjusted to the International Normalised Ratio (INR). Patients on anticoagulant drugs usually have a target INR 2 .0 to 3.0 (i.e. a prothrombin time 2 to 3 times as long as in a normal patient, using standardised conditions). For some patients who have a high risk of clot formation, the INR must be higher: about 3.0 to 4.0.
Basket
(0 items)
TruHealth Checkups
Find the most suitable checkup for you from our range of TruHealth Checkups
Why Metropolis?
Metropolis has a team of 200 senior pathologists and over 2000 technicians delivering diagnostic solutions in the areas of routine, semi specialty and super specialty domains like Oncology, Neurology, Gynaecology, Nephrology and many more.
We offer a comprehensive range of 4000+ clinical laboratory tests and profiles, which are used for prediction, early detection, diagnostic screening, confirmation and/or monitoring of the disease.
Trusted by Leading Doctors & Hospitals
Over 2000+ Scientific Officers
Proficiency Testing for Accurate Reports
Frequently Asked Questions
Our Blog
Take a look at some of the related content from our blog
What Our Customers Say
We're satisfying our customers every day since 1980

Bena Patel

Sharmila Vaishnav

Ishwarakrishnan

Chris Bessell

Prabhu Gopalakrishnan

Kedar Ambekar
Our Global Reference Lab
Accreditations

Insulin Fasting Cmia Serum Test