Home > G6PD Quantitative Reflex Qualitative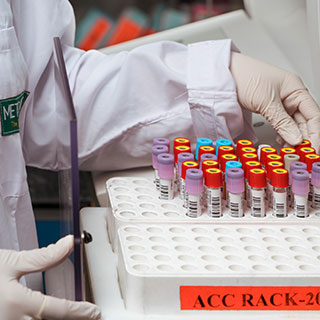 G6PD Quantitative Reflex Qualitative
G6PD Qualitative Blood measures the amount of G6PD in RBCs.
Blood Collection at Home
Smart Report with Trend Analysis
8-stage MET Protocol
Certified CAP & NABL Labs
To check for the presence of inherited G6PD deficiency.
Your doctor may recommend a G6PD test if he suspects you may have haemolytic anemia based on symptoms such as:
An enlarged spleen
Weakness
Dizziness
Jaundice
Pale skin
Increased heart rate
Darker coloured urine
Breathlessness
Glucose-6-phosphate dehydrogenase (G6PD) is an enzyme involved in energy production. It is present in all the cell, including red blood cells and helps protect them from certain toxic by-products of cellular metabolism. A deficiency in G6PD causes RBCS to become susceptible to haemolysis (breakage). This test measures the G6PD levels in RBCs to help identify the deficiency.
Reference Values Of G6PD Quantitative Reflex Qualitative
The normal result for G6PD Quantitative Reflex Qualitative Blood:
G6PD is Test is positive if blood fails to shown fluorescence under UV light, or negative in the reverse case.
Interpretations
A low level of G6PD enzyme is indicative of the concerned deficiency. An affected person is more likely to experience symptoms in presence of certain triggering factor compared to the one who isn't. The results, however, can't be utilised to predict how an affected person will react during a given set of circumstances. The severity of symptoms will vary from person to person and from episode to episode.
A normal G6PD enzyme level in a male indicates that it is unlikely he has a deficiency, and if anaemia is present, it is likely due to another cause. However, if the test was performed during an episode of haemolytic anaemia, it should be repeated several weeks later when the RBC population has had time to replenish and mature.
Basket
(0 items)
TruHealth Checkups
Find the most suitable checkup for you from our range of TruHealth Checkups
Why Metropolis?
Metropolis has a team of 200 senior pathologists and over 2000 technicians delivering diagnostic solutions in the areas of routine, semi specialty and super specialty domains like Oncology, Neurology, Gynaecology, Nephrology and many more.
We offer a comprehensive range of 4000+ clinical laboratory tests and profiles, which are used for prediction, early detection, diagnostic screening, confirmation and/or monitoring of the disease.
Trusted by Leading Doctors & Hospitals
Over 2000+ Scientific Officers
Proficiency Testing for Accurate Reports
Frequently Asked Questions
Our Blog
Take a look at some of the related content from our blog
What Our Customers Say
We're satisfying our customers every day since 1980

Bena Patel

Sharmila Vaishnav

Ishwarakrishnan

Chris Bessell

Prabhu Gopalakrishnan

Kedar Ambekar
Our Global Reference Lab
Accreditations

G6PD Quantitative Reflex Qualitative