Home > Clobazam serum by HPLC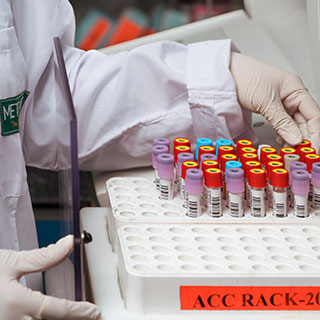 Clobazam serum evaluation by HPLC (high-performance liquid chromatographic) technique is used for therapeutic monitoring of clobazam by measuring its concentration in the serum. Clobazam is a benzodiazepine used in the treatment of epilepsy.
Blood Collection at Home
Smart Report with Trend Analysis
8-stage MET Protocol
Certified CAP & NABL Labs
Serum concentrations of other anticonvulsant drugs are not significantly affected by the concurrent administration of clobazam, with the exception of patients on another medicine called phenytoin whose serum concentrations can increase after the addition of clobazam. Other medicine interactions include the coadministration of certain antiepileptics like phenobarbital, phenytoin, or carbamazepine, which can result in reduced clobazam concentrations. Moreover, concurrent use of antifungal medicine, posaconazole, and clobazam may result in elevated clobazam concentrations.

Since co-administration of other medications such as phenytoin, carbamazepine, posaconazole, or phenobarbital may affect the concentrations of clobazam, patients may require dose adjustment of clobazam. This need for altering the optimum dosage in turn, necessitates therapeutic drug monitoring of clobazam and its active metabolite.
Clobazam has good absorption (1-4 hours for the immediate-release formulation) with low protein binding and marginal hepatic metabolism. The elimination of drug is through kidneys and is excreted unchanged in the urine with an elimination half-life of approximately 21 hours. However, its active metabolite known as N-desmethylclobazam (NDMCLB) has a longer half-life than the parent drug and can alter the pharmacological properties of clobazam. Therefore, for therapeutic drug monitoring, evaluation of both clobazam and its active metabolite is essential. For above reasons, HPLC method is a rapid, reproducible, simple, and sensitive test used for the evaluation of both clobazam and NDMCLB.
Treatment approach for epilepsy sometimes include increasing the dosage of clobazam, as tolerance develops. Nevertheless, an increase in adverse effects can also be seen with increased dosage may outshine its ability to control seizures.
Little changes in personality with the gradual increase in dose may go undetected over a long period. Moreover, in few cases, it becomes difficult to distinguish separate the effects of clobazam from the effects of other medications, seizures, and other neurological and psychological disorders. Therefore, conducting a clobazam serum by HPLC becomes important for these patients.
Interpretations
Your doctor shall interpret the results of this test in conjunction with the physical signs and symptoms. Some other laboratory test results should also be taken into consideration while interpreting the results of Clobazam serum by HPLC.
The majority of people exhibit an optimal response to clobazam when serum levels of clobazam are between 30 and 300 ng/mL and NDMCLB are between 300 and 3000 ng/mL. However, the patient may encounter the risk of toxicity when clobazam levels are above 500 ng/mL or NDMCLB levels are above 5000 ng/mL.
Basket
(0 items)
TruHealth Checkups
Find the most suitable checkup for you from our range of TruHealth Checkups
Why Metropolis?
Metropolis has a team of 200 senior pathologists and over 2000 technicians delivering diagnostic solutions in the areas of routine, semi specialty and super specialty domains like Oncology, Neurology, Gynaecology, Nephrology and many more.
We offer a comprehensive range of 4000+ clinical laboratory tests and profiles, which are used for prediction, early detection, diagnostic screening, confirmation and/or monitoring of the disease.
Trusted by Leading Doctors & Hospitals
Over 2000+ Scientific Officers
Proficiency Testing for Accurate Reports
Frequently Asked Questions
Our Blog
Take a look at some of the related content from our blog
What Our Customers Say
We're satisfying our customers every day since 1980

Bena Patel

Sharmila Vaishnav

Ishwarakrishnan

Chris Bessell

Prabhu Gopalakrishnan

Kedar Ambekar
Our Global Reference Lab
Accreditations