Home > Homocysteine Test in Andheri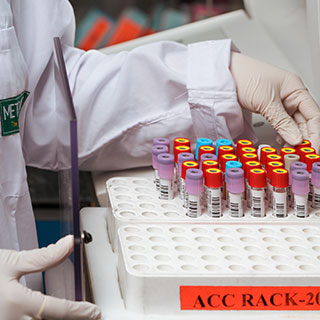 Homocysteine Test in Andheri
If you have high levels of homocysteine in your blood, it may be a sign of a vitamin deficiency, heart disease, or a rare inherited disorder.
Blood Collection at Home
Smart Report with Trend Analysis
8-stage MET Protocol
Certified CAP & NABL Labs
Your doctor suspects that you are

Folate or vitamin B12 deficient
At risk for heart disease
You have had a heart attack and your doctor is monitoring the levels of homocysteine
Homocysteine test is ordered if your doctor feels that you have symptoms of a vitamin B or folic acid deficiency. These include:
Dizziness
Weakness
Fatigue
Pale skin
Sore tongue and mouth
Tingling sensation in the hands and feet that are typically seen in B12 deficiency
Homocysteine is also commonly ordered test in patients who are at risk for heart disease or if you have family history of heart disease. Furthermore, excess levels of homocysteine in your blood can clog your arteries outing you at risk for heart attack and stroke.
Homocysteine is produced by the body. Homocysteine in the body is converted or recycled to methionine or cysteine, which are very beneficial to the body, with the help of several vitamin B proteins (B-Complex proteins), more importantly vitamin B12. A high level of homocysteine makes a person more prone to certain blood vessel damage, and hence seen as a risk factor for development of heart diseases. Your doctor may order a homocysteine test to assess the possibility of suffering from Vitamin B12 or folate deficiency. The levels are also measured in elderly patients and malnourished individuals as they have increased propensity to vitamin B12 deficiency. Homeocysteine levels are also measured in patients known to have an increased risk of heart attack or other heart diseases. Additionally, these levels are also assessed in patient who have a family history of heart diseases but not presenting with any concerned risk factors such as high blood pressure, diabetes or obesity.
Reference Values Of Homocysteine Test
• Reference range depends on age, gender and medical history. A normal reference range is listed below.
• Homocysteine levels are typically higher in men than women and increases with age progression
• The normal range in adults: 2 micromoles per liter.
Interpretations
In cases of suspected malnutrition or vitamin B12 or folate deficiency, increased homocysteine levels can be observed. If an individual is not able to get sufficient B vitamins and/or folate through dietary sources or supplements, then the body fails to convert homocysteine into cysteine, methionine and several other chemicals that have an important role to play in the growth, development, and protection to the body. Homocysteine is persistently elevated in people with a greater risk of heart attack and stroke.
Basket
(0 items)
TruHealth Checkups
Find the most suitable checkup for you from our range of TruHealth Checkups
Why Metropolis?
Metropolis has a team of 200 senior pathologists and over 2000 technicians delivering diagnostic solutions in the areas of routine, semi specialty and super specialty domains like Oncology, Neurology, Gynaecology, Nephrology and many more.
We offer a comprehensive range of 4000+ clinical laboratory tests and profiles, which are used for prediction, early detection, diagnostic screening, confirmation and/or monitoring of the disease.
Trusted by Leading Doctors & Hospitals
Over 2000+ Scientific Officers
Proficiency Testing for Accurate Reports
Frequently Asked Questions
Our Blog
Take a look at some of the related content from our blog
What Our Customers Say
We're satisfying our customers every day since 1980

Bena Patel

Sharmila Vaishnav

Ishwarakrishnan

Chris Bessell

Prabhu Gopalakrishnan

Kedar Ambekar
Our Global Reference Lab
Accreditations