Home > TSH Receptor Antibody (LATS-TSI) Serum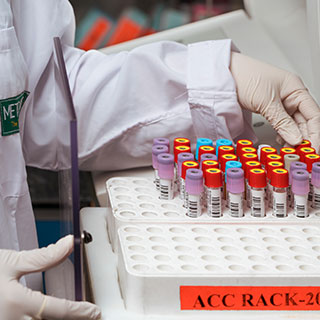 TSH Receptor Antibody (LATS-TSI) Serum
TSH Receptor test measures the amount of TSH in the blood.
Blood Collection at Home
Smart Report with Trend Analysis
8-stage MET Protocol
Certified CAP & NABL Labs
Thyroid panel helps evaluate thyroid gland function and to help diagnose thyroid disorders.
Your doctor would recommend this test for you if you have the symptoms of hypo or hyper-thyroidism.
Symptoms of Hypothyroidism:
Sudden Weight Gain
Dry Skin
Constipation
Puffy Skin
Hair Loss
Fatigue
Menstrual Irregularity
Symptoms of Hyperthyroidism:
Increased Heart Rate
Anxiety
Weight Loss
Tremors
A thyroid panel is a group of tests that are done together to help analyse thyroid gland function and to help diagnose thyroid disorders. The tests in the thyroid panel help measure the amount of thyroid hormones in the blood. These hormones are chemical substances that travel through the blood and control or regulate the body's metabolism—how it functions and uses energy.
Reference Values Of TSH Receptor Antibody (LATS-TSI) Serum
| | |
| --- | --- |
| Test | Range |
| Serum thyroxine | 4.6-12 ug/dl |
| Free thyroxine fraction | 0.03-0.005% |
| Free Thyroxine | 0.7-1.9 ng/dl |
| Thyroid hormone binding ratio | 0.9-1.1 |
| Free Thyroxine index | 11-Apr |
| Serum Triiodothyronine | 80-180 ng/dl |
| Free Triiodothyronine l | 230-619 pg/d |
| Free T3 Index | 80-180 |
| Serum thyrotropin | 0.5-6 uU/ml |
Interpretations
When TSH concentrations are increased, the thyroid will make and release abnormal quantities of T4 and T3 and the person may experience symptoms associated with hyperthyroidism. If there is decreased production of thyroid hormones, the person may experience symptoms of hypothyroidism.
Basket
(0 items)
TruHealth Checkups
Find the most suitable checkup for you from our range of TruHealth Checkups
Why Metropolis?
Metropolis has a team of 200 senior pathologists and over 2000 technicians delivering diagnostic solutions in the areas of routine, semi specialty and super specialty domains like Oncology, Neurology, Gynaecology, Nephrology and many more.
We offer a comprehensive range of 4000+ clinical laboratory tests and profiles, which are used for prediction, early detection, diagnostic screening, confirmation and/or monitoring of the disease.
Trusted by Leading Doctors & Hospitals
Over 2000+ Scientific Officers
Proficiency Testing for Accurate Reports
Frequently Asked Questions
Our Blog
Take a look at some of the related content from our blog
What Our Customers Say
We're satisfying our customers every day since 1980

Bena Patel

Sharmila Vaishnav

Ishwarakrishnan

Chris Bessell

Prabhu Gopalakrishnan

Kedar Ambekar
Our Global Reference Lab
Accreditations

TSH Receptor Antibody (LATS-TSI) Serum