Home > Sodium Test in Fort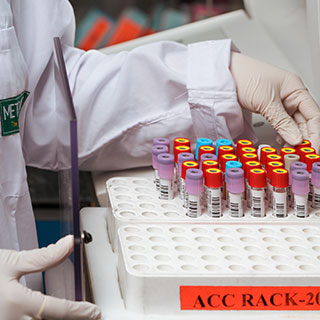 Sodium test measures the amount of sodium in your blood.
Blood Collection at Home
Smart Report with Trend Analysis
8-stage MET Protocol
Certified CAP & NABL Labs
A sodium test is usually ordered with other electrolytes like potassium, chloride and bicarbonates. A measurement of these electrolytes gives an indication of electrolyte balance that has implications in several diseases.
Your doctor may recommend this test for you if you show symptoms of either low or high sodium in your blood. These include:
Muscle cramps
Nausea
Frequent headaches
Swelling the body
Sodium is critical element, as it helps in maintaining blood pressure, as well as normal functioning of muscles and nerves. Sodium holds water in the blood and high levels increases the blood volume thereby increasing the pressure. The human body regulates sodium level extremely carefully to maintain optimum levels, especially the kidneys. The kidneys sense the sodium level in the blood and whenever high level is found, kidneys eliminate it. And in case of low sodium levels, it retains it be reabsorbing the sodium from the blood that is initially filtered by the kidneys.
Reference Values Of Sodium Test
Normal range for blood sodium levels is 135 to 145 milliequivalents per liter (mEq/L). However, the range can vary with age, gender and medical conditions.
Interpretations
A low level of sodium could be attributed to many reasons:
loss of sodium from the body
Increased intake of water
Edema (fluid accumulation in the body)
Hypernatremia or low sodium is most commonly attributed to conditions such as Addison's disease, diarrhoea or kidney disease. Heart failure and liver cirrhosis causes water retention which leads to low level of sodium in blood. Kidney diseases that cause protein losses also lead to Hypernatremia.
A high blood sodium level is mostly attributed to inadequate water intake and dehydration. Symptoms include dry mucous membranes, thirst, agitation, restlessness, acting irrationally, and coma or convulsions if the sodium level rises to extremely high concentrations. In rare cases, hypernatremia may be due to Cushing syndrome or a condition caused by too little ADH (Anti Diuretics) called diabetes insipidus.
Basket
(0 items)
TruHealth Checkups
Find the most suitable checkup for you from our range of TruHealth Checkups
Why Metropolis?
Metropolis has a team of 200 senior pathologists and over 2000 technicians delivering diagnostic solutions in the areas of routine, semi specialty and super specialty domains like Oncology, Neurology, Gynaecology, Nephrology and many more.
We offer a comprehensive range of 4000+ clinical laboratory tests and profiles, which are used for prediction, early detection, diagnostic screening, confirmation and/or monitoring of the disease.
Trusted by Leading Doctors & Hospitals
Over 2000+ Scientific Officers
Proficiency Testing for Accurate Reports
Frequently Asked Questions
Our Blog
Take a look at some of the related content from our blog
What Our Customers Say
We're satisfying our customers every day since 1980

Bena Patel

Sharmila Vaishnav

Ishwarakrishnan

Chris Bessell

Prabhu Gopalakrishnan

Kedar Ambekar
Our Global Reference Lab
Accreditations