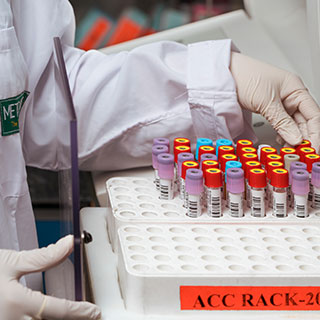 A progesterone test measures the level of progesterone in the blood.
Blood Collection at Home
Smart Report with Trend Analysis
8-stage MET Protocol
Certified CAP & NABL Labs
To identify the reason of infertility, tracking ovulation in women, help identify an ectopic or failing pregnancy, monitor the state of pregnancy, supervise progesterone replacement therapy, or help understand the cause of abnormal uterine bleeding.
Doctor may recommend this test for you if you have been facing infertility from a long time. During early pregnancy when symptoms show an ectopic or failing pregnancy; during a high-risk pregnancy to help detect placenta and foetal health and/or when a woman has abnormal bleeding during urination.
Progesterone is a steroid hormone whose pivotal role is to help prepare the women's body for pregnancy. It operates in cross-collaboration with various other female hormones. This test determines the level of progesterone in the blood.
Reference Values Of Progesterone Test
In general, normal serum progesterone test results fall in the following ranges:
men, post-menopausal women, and women beginning their menstrual cycle: 1 ng/mL or under.
women in between their menstrual cycle: 5 to 20 ng/mL
women in their first trimester of pregnancy: 11.2 to 90 ng/mL
Interpretations
Interpretation of progesterone test results depends on intent for testing in first place. Interpreting the results of progesterone tests needs information and thorugh knowledge of the woman's pregnancy or menopausal status. Progesterone levels usually begin to rise when an egg is released from the ovary, show a rising trend for several days, and then either continue to rise when a sperm fertilizes it leading to early pregnancy or when unfertilized, fall to initiate menstruation (menstrual bleeding).
If progesterone levels remain constant without showing any rise or fall on a monthly basis, a woman may not be ovulating nor having regular menstrual periods. This may be a cause of infertility.
If levels do not rise normally during an early pregnancy, the pregnancy may be ectopic (faulty fertilization of egg which in not productive) and/or may be failing. If serial measurements do not show increasing progesterone levels over time, it could indicate something wrong in the foetus, and can be an alarming condition requiring medical attention in order to prevent abortion.
Basket
(0 items)
TruHealth Checkups
Find the most suitable checkup for you from our range of TruHealth Checkups
Why Metropolis?
Metropolis has a team of 200 senior pathologists and over 2000 technicians delivering diagnostic solutions in the areas of routine, semi specialty and super specialty domains like Oncology, Neurology, Gynaecology, Nephrology and many more.
We offer a comprehensive range of 4000+ clinical laboratory tests and profiles, which are used for prediction, early detection, diagnostic screening, confirmation and/or monitoring of the disease.
Trusted by Leading Doctors & Hospitals
Over 2000+ Scientific Officers
Proficiency Testing for Accurate Reports
Frequently Asked Questions
Our Blog
Take a look at some of the related content from our blog
What Our Customers Say
We're satisfying our customers every day since 1980

Bena Patel

Sharmila Vaishnav

Ishwarakrishnan

Chris Bessell

Prabhu Gopalakrishnan

Kedar Ambekar
Our Global Reference Lab
Accreditations