Home > Urine Routine Examination Test in Matunga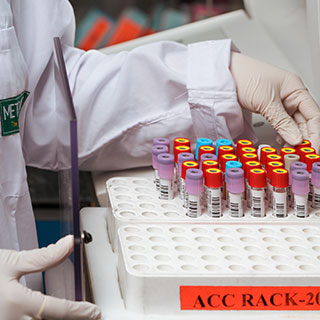 Urine Routine Examination Test in Matunga
A routine urine examination is a regular test that the doctor may order for you. It helps diagnose certain diseases and is almost always ordered when you present yourself with a fever.
Blood Collection at Home
Smart Report with Trend Analysis
8-stage MET Protocol
Certified CAP & NABL Labs
A routine urine examination can give information about several conditions such as Hematuria; associated with Kidney Stones, Pyuria; associated with urinary infections or Eosinophilia; associated with nephritis and other diseases. Presence of Red Blood Cells, White Blood Cells or Pus cells can give details on a variety of diseases. Your doctor will be able to guide you based on symptoms presented.
Your doctor may recommend this test for you if he thinks that you have a urinal tract infectior or kidney disease. The symptoms include:
Abdominal pain
Back pain
Frequent painful urination
The kidneys are vital organs in the body and do the function of blood purification by clearing wastes and eliminating it from the body in form of urine. The urine contains many different types of wastes produced by the body and several abnormalities can be analysed by examining urine. What we eat, what we drink, and level of physical activity can affect how kidneys function and what is excreted in the urine.
A Routine Urine Examination includes 3 types of Analysis
Physical Examination which records the Quantity, Colour, Deposit, Appearance, pH and Specific Gravity
Chemical Examination records the presence of Proteins, Sugar, Ketone, Occult Blood, Bile Pigment, Bile Salts, Urobilinogen
Microscopic Examination records the presence of Red Blood Cells, Pus Cells, Epithelial Cells, Crystals, Microbes etc.
Reference Values Of Urine Routine Examination Test
Physical Examination
• Volume: Normal volume of an early morning sample is about 50-300 ml.
• Colour: Normal colour is Pale Yellow
• Appearance: Normal appearance is clear to cloudy
• Reaction: Usually acidic pH range 4.5 – 7.5.
• Odour: Urine does not smell very strong but has a slightly nutty or an aromatic odour
• Specific Gravity: Normal value ranges from 1.003 to 1.060.
Chemical Examination
Normal chemical composition of the urine includes urea, chlorides, sodium, potassium, sulphates, phosphates, creatinine and other chemicals present in trace amounts. Presence of Sugar or Bile Pigments and other elements means something is wrong with the kidney, as these constituents are not present otherwise when the kidneys are normal.
Microscopic Examination:
Pus cells and epithelial cells may be found in urine under normal conditions. Bacteria, yeast and parasites are normally absent and if found can indicate an infection.
Interpretations
Volume: A value above 500 ml is diagnosed as Polyuria (excess urination). Anything less than 20ml indicates some kidney disorder
Colour: Dark yellow or orange could indicate a liver disorder. White indicates presence of pus and urinary infections. Pink to red suggests presence of Red Blood Cells and blue or green again indicates a liver disorder (Intake of some medicines also alters the colour of urine and your doctor will be able to accordingly guide you on any abnormality)
Appearance: Presence of White Blood Cells can give a turbid appearance. Smoky appearance suggests presence of red blood cells
Reaction: pH value less than 4.7 indicates acidic nature and more than 7.5 indicates alkaline nature
Odour: Bacterial or urinary tract infection leads to a foul-smelling urine. Urine retention leads to an ammoniacal odour
Specific Gravity: Special gravity below normal range indicates diabetes insipidus or chronic kidney infection and a higher range indicates diabetes mellitus or acute kidney infection
Chemical Examination
Presences of the following components may indicate the corresponding conditions:
Bile Salts, Bile pigments and urobilinogen: Liver Disorders
Proteins: Heart disease or kidney disorder
Glucose: Any diabetic conditions
Ketone bodies: Severe diabetes and even in certain nervous disorders
Blood : Cancer of the kidney, in case of presence of kidney stones or even due to Kidney Tuberculosis.
Microscopic Examination
Indication of more than 5-10 pus cells are suggestive of urinary tract infections or may also be due to normal fever, stress and sometimes due to dehydration. Presence of epithelial cells (cells in the outer layer of any organ) suggests a wide range of medical conditions ranging from tubular damage to pyelonephritis. Presence of casts indicates kidney disorders and presence of phosphate crystals or uric acid crystals suggests kidney stones.
Basket
(0 items)
TruHealth Checkups
Find the most suitable checkup for you from our range of TruHealth Checkups
Why Metropolis?
Metropolis has a team of 200 senior pathologists and over 2000 technicians delivering diagnostic solutions in the areas of routine, semi specialty and super specialty domains like Oncology, Neurology, Gynaecology, Nephrology and many more.
We offer a comprehensive range of 4000+ clinical laboratory tests and profiles, which are used for prediction, early detection, diagnostic screening, confirmation and/or monitoring of the disease.
Trusted by Leading Doctors & Hospitals
Over 2000+ Scientific Officers
Proficiency Testing for Accurate Reports
Frequently Asked Questions
Our Blog
Take a look at some of the related content from our blog
What Our Customers Say
We're satisfying our customers every day since 1980

Bena Patel

Sharmila Vaishnav

Ishwarakrishnan

Chris Bessell

Prabhu Gopalakrishnan

Kedar Ambekar
Our Global Reference Lab
Accreditations

Urine Routine Examination Test