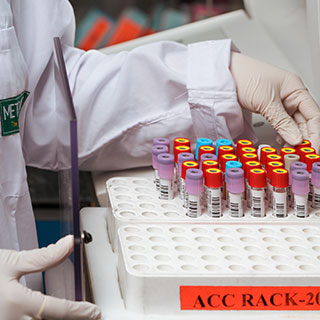 A magnesium test helps determine the level of magnesium in your blood.
Blood Collection at Home
Smart Report with Trend Analysis
8-stage MET Protocol
Certified CAP & NABL Labs
Magnesium should be measured to evaluate the amount of magnesium in your blood and to assist determine the source of abnormal levels of magnesium, calcium and/or potassium.
Your doctor would recommend this test for you if you show signs of low or high magnesium levels
Symptoms of Low Magnesium:
Weakness
Muscle Cramps
Irregularity in the Heartbeats
In severe cases, seizures
Symptoms of High Magnesium:
Breathing Trouble
Weakness in the Muscles
Vomiting and Nausea
Magnesium is a mineral that plays a pivotal role by assisting in energy production, muscle contraction, nerve function, and the maintenance of strong bones. It comes into the body through the diet and is absorbed by the small intestine and colon, after which it gets stored in the bones, cells, and tissues. Normally, only about 1% of total body magnesium is present in the blood and this makes it difficult to gauge an estimate of magnesium based on blood levels alone. However, it still holds value in evaluating a person's magnesium status.
Reference Values Of Magnesium Test
The normal range for blood magnesium level is 1.7 to 2.2 mg/dL (0.85 to 1.10 mmol/L). Normal value ranges may vary slightly among different laboratories
Interpretations
Low blood levels of magnesium may indicate one or more of these possibilities
Person is not consuming enough magnesium
The person is consuming sufficiently, but the body is not able to absorb it
The body is excreting too much of magnesium
Increased blood levels of magnesium are not usually because to dietary sources but are usually the result of an excretion problem or excessive supplementation.
Basket
(0 items)
TruHealth Checkups
Find the most suitable checkup for you from our range of TruHealth Checkups
Why Metropolis?
Metropolis has a team of 200 senior pathologists and over 2000 technicians delivering diagnostic solutions in the areas of routine, semi specialty and super specialty domains like Oncology, Neurology, Gynaecology, Nephrology and many more.
We offer a comprehensive range of 4000+ clinical laboratory tests and profiles, which are used for prediction, early detection, diagnostic screening, confirmation and/or monitoring of the disease.
Trusted by Leading Doctors & Hospitals
Over 2000+ Scientific Officers
Proficiency Testing for Accurate Reports
Frequently Asked Questions
Our Blog
Take a look at some of the related content from our blog
What Our Customers Say
We're satisfying our customers every day since 1980

Bena Patel

Sharmila Vaishnav

Ishwarakrishnan

Chris Bessell

Prabhu Gopalakrishnan

Kedar Ambekar
Our Global Reference Lab
Accreditations