Home > Lactate Dehydrogenase Test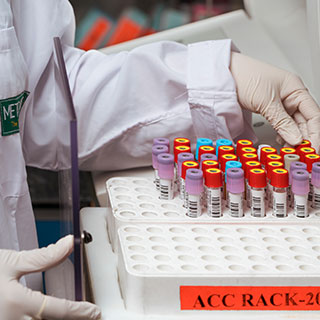 Lactate Dehydrogenase Test
Lactate dehydrogenase (LDH) is found in nearly all body tissues, more prominently in blood cells and heart muscle. It's produced when muscles and tissues are damaged due to common injuries or diseases. LDH has significance in preventing muscle failure and fatigue in numerous ways.
Blood Collection at Home
Smart Report with Trend Analysis
8-stage MET Protocol
Certified CAP & NABL Labs
When cells are damaged, the LDH enzyme is released into the fluid portion of blood. The fluid portion of the blood is called as serum. Sometimes LDH is also released into other body fluids; example: the cerebrospinal fluid. The cerebrospinal fluid is the one that surrounds your brain and spinal cord. This test is ordered when there is a fluid build-up due to injury or also when bacterial or viral meningitis is suspected.
LDH test is ordered to see if you have tissue damage and to understand the extent of tissue damage
To monitor some severe conditions like haemolytic or megaloblastic anaemia and some kidney and liver diseases.
To monitor cancer treatment of certain types
LDH is a protein that normally appears throughout the body in small amounts, especially in active tissues such as heart, liver, kidney, etc . LDH levels rise above normal levels in various cancers, so LDH may be used as a tumor marker, but at the same time, it is not useful in identifying one specific type of cancer. Measuring LDH levels can be helpful in monitoring treatment for Cancer, to see if anticancer medications are working, as a measure of reduction in LDH levels. Noncancerous conditions that can elevate LDH levels include heart failure, hypothyroidism, anemia, and lung or liver disease.
An LDH blood test may be used:
To detect and determine the severity of acute or chronic tissue damage
To detect and monitor progressive conditions such as anaemia, including hemolytic anemia and megaoloblastic anemia, or severe infections, to check for progression of the disease
To help stage, determine prognosis, and/or monitor treatment and efficacy of anticancer drugs (chemotherapy)
An LDH test is conducted on body fluids for a few different reasons:
To help evaluate cerebrospinal fluid and distinguish between bacterial or viral meningitis
To evaluate other body fluids such as pleural, peritoneal or pericardial fluid and help identify the cause of fluid accumulation-whether due to injury and inflammation (exudate), or due to an imbalance of pressure inside blood vessels and the amount of protein in the blood (transudate). This information is helpful in guiding treatment.
Reference Values Of Lactate Dehydrogenase Test
There is no reference range. Report indicates positivity or negativity. A negative test is normal.
Interpretations
Elevated levels of LDH usually give an indication of tissue damage. LD levels typically will rise at the beginning of cellular damage, peak after some time period, and then start declining.
An elevated level of LDH may be seen in:
Anaemia (Haemolytic, Pernicious, Megaloblastic)
Bacterial and viral infections such as meningitis, encephalitis, HIV
Sepsis
Intestinal and lung (pulmonary) infarction
Acute kidney, pancreas & liver disease
Acute muscle injury & bone fracture
In some types of cancer
Especially when a patient is on anticancer medications, a high LDH in the blood may indicate that treatment for cancer (e.g., chemotherapy) hasn't been working. A high level can predict poor survival in cancer patients. With some chronic and progressive conditions, moderately elevated LD blood levels may persist. Low and normal levels of LDH do not usually indicate an abnormal condition. Low levels are sometimes seen when someone consumes large amount of vitamin C.
Body fluids:
Cerebrospinal fluid—a high LDH indicates likelihood of meningitis caused by bacteria, while a low or normal level are more indicative of viral meningitis.
A high LD shows that pericardial fluid, peritoneal or pleural fluid is an exudate, while a low level shows it is transudate. Transudates are usually caused by heart problem or cirrhosis. Exudates show several disease conditions which can be confirmed on additional testing.
Basket
(0 items)
TruHealth Checkups
Find the most suitable checkup for you from our range of TruHealth Checkups
Why Metropolis?
Metropolis has a team of 200 senior pathologists and over 2000 technicians delivering diagnostic solutions in the areas of routine, semi specialty and super specialty domains like Oncology, Neurology, Gynaecology, Nephrology and many more.
We offer a comprehensive range of 4000+ clinical laboratory tests and profiles, which are used for prediction, early detection, diagnostic screening, confirmation and/or monitoring of the disease.
Trusted by Leading Doctors & Hospitals
Over 2000+ Scientific Officers
Proficiency Testing for Accurate Reports
Frequently Asked Questions
Our Blog
Take a look at some of the related content from our blog
What Our Customers Say
We're satisfying our customers every day since 1980

Bena Patel

Sharmila Vaishnav

Ishwarakrishnan

Chris Bessell

Prabhu Gopalakrishnan

Kedar Ambekar
Our Global Reference Lab
Accreditations

Lactate Dehydrogenase Test