Home > E2 Estradiol Serum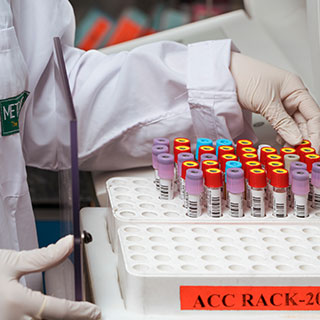 Estradiol test measures the amount of estradiol in the blood.
Blood Collection at Home
Smart Report with Trend Analysis
8-stage MET Protocol
Certified CAP & NABL Labs
To measure or monitor your estrogen levels; to detect an abnormal level or hormone imbalance as a cause of your signs and symptoms; to monitor treatment for infertility or symptoms of menopause; sometimes to test for foetal-placental status during early stages of pregnancy
Your doctor may recommend an estradiol test if female or male sex characteristics aren't developing at the normal rate. High estradiol levels may indicate early puberty and lower levels, late puberty. The symptoms include:
bloating or swelling in your abdomen
Loss of appetite
pain in your lower abdominal and pelvic area
weight loss
frequent urination
Among the group of steroids, estrogens are responsible for development and also function of reproductive organs along with formation of secondary sex characteristics in women. Along with progesterone, another hormone, they help regulate the menstrual cycle, helps in growth of breasts and uterus along with maintaining a healthy pregnancy. Being a main sex hormone for women, they are also found in men and play an important role in growth and bone metabolism in both sexes. Estrogen tests measures one of three components- E1, E2, E3, in blood and urine.
Estrone (E1) is directly converted from androstenedione (from the adrenal gland) or indirectly from other androgens. Ovaries, placenta, testicles, and adipose tissues also produce E1. E2 and E1 can be converted into each other as needed. E1 is the primary estrogen in men and in post-menopausal women.
Estradiol (E2) is primarily produced in the ovaries in pre-menopausal women and in the testicles in men. E2 is converted from E1 in post-menopausal women. It is the most potent estrogen and the one that is present in the highest concentration in non-pregnant, pre-menopausal women. Women's age and reproductive status decides the variation of E2 levels. They are a good marker of ovarian function.
Placenta produces E3, and its concentration throughout a women's pregnancy. Health of pregnant women and developing babies are indicated by its increasing levels. Estriol is part of the second trimester maternal serum screen, a test performed to evaluate foetal risk due to certain chromosomal abnormalities. Very low levels of E3 are present in non-pregnant women or men.
Reference Values Of E2 Estradiol Serum
Normal levels of estradiol (E2) for menstruating women range from 15 to 350 pictograms per millilitre (pg/mL). For postmenopausal women, normal levels should be lower than 10 pg/mL.
Common Reference Value as below. Your doctor will help interpret the report as Reference Value for Estradiol varies between age groups and gender.
| | |
| --- | --- |
| Gender | Value pg/ml |
| Male | 11 to 44 |
| Female | 15-350 |
Interpretations
Sex and age of the person being tested determines the estrogen levels. In women, menstrual cycle and pregnancy plays a role in estrogen level. Normal reference values and units vary between laboratories.
Many metabolic conditions increased or decreased levels of estrogen. Accurate readings must be taken of estrone, estradiol and estriol because the levels may vary on a day-to-day basis and throughout a women's menstrual cycle.
A health practitioner will keep a check on the varying hormonal levels normally along with their levels in menstrual cycle or pregnancy to evaluate the values. The test results gives the health practitioner information about the potential cause of a person's symptoms or status rather than a specific conditions.
Basket
(0 items)
TruHealth Checkups
Find the most suitable checkup for you from our range of TruHealth Checkups
Why Metropolis?
Metropolis has a team of 200 senior pathologists and over 2000 technicians delivering diagnostic solutions in the areas of routine, semi specialty and super specialty domains like Oncology, Neurology, Gynaecology, Nephrology and many more.
We offer a comprehensive range of 4000+ clinical laboratory tests and profiles, which are used for prediction, early detection, diagnostic screening, confirmation and/or monitoring of the disease.
Trusted by Leading Doctors & Hospitals
Over 2000+ Scientific Officers
Proficiency Testing for Accurate Reports
Frequently Asked Questions
Our Blog
Take a look at some of the related content from our blog
What Our Customers Say
We're satisfying our customers every day since 1980

Bena Patel

Sharmila Vaishnav

Ishwarakrishnan

Chris Bessell

Prabhu Gopalakrishnan

Kedar Ambekar
Our Global Reference Lab
Accreditations