Home > DHT- Di Hydro Testosterone Serum Test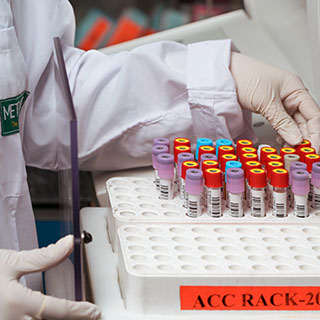 DHT- Di Hydro Testosterone Serum Test
A DHT blood test estimates the level of dihydrotestosterone (DHT) in the blood.
Blood Collection at Home
Smart Report with Trend Analysis
8-stage MET Protocol
Certified CAP & NABL Labs
DHT is measured to assess for male pattern hair loss and several prostate issues, where DHT plays a critical known and best known for.
Your doctor may recommend this test for you if he sees the signs of high or low DHT in the blood. Low levels of DHT does not affect women. The symptoms include:
Low DHT in Men:
The sex organs develop late or remain
Gynecomastia (enlarged breasts)-Manboobs
High risk of developing prostate tumours
High Level DHT in Men:
Hair loss
Longer time for an injury to heal
A decrease in sex drive
Infertility
Loss of bone density
Loss of muscle strength
Coronary heart disease
Enlarged prostate
Prostate cancer
High Level DHT in women:
Male pattern hair loss
Acne
An increase in body, facial, and/or pubic hair(hirsutism)
A cease of menstrual periods
DHT is three times more potent than testosterone and is crucial for development and maintenance of masculine characteristics and justifying the effects of estrogen (hormone which is responsible for developing features like breasts in women) in men. This test provides information on how much DHT is present in the blood.
Reference Values Of DHT- Di Hydro Testosterone Serum Test
Normal values (for all age groups):
Male: > 14 Years : Between 250-990 pg/ml
Female: => 14 Years : Pre-Menopausal: 24-368 pg/ml
Female: => 14 Years : Post-Menopausal: 10-181 pg/ml

Interpretations
DHT is produced in the body from testosterone in presence of a vital chemical 5 alpha reductase. Reduced levels can be attributed to an outcome of certain medication which block the action of 5 alpha reductase, or a genetic disorder pertaining to the enzyme deficiency of 5 alpha-reductase (a rare disease).
Higher concentrations of DHT in men indicates the possibility of them suffering from hair loss or high concentration in women means increased likelihood of the woman to suffer from hirsutism (facial hair) or could indicate an abnormal ovarian condition called polycystic ovarian syndrome (PCOS)
Basket
(0 items)
TruHealth Checkups
Find the most suitable checkup for you from our range of TruHealth Checkups
Why Metropolis?
Metropolis has a team of 200 senior pathologists and over 2000 technicians delivering diagnostic solutions in the areas of routine, semi specialty and super specialty domains like Oncology, Neurology, Gynaecology, Nephrology and many more.
We offer a comprehensive range of 4000+ clinical laboratory tests and profiles, which are used for prediction, early detection, diagnostic screening, confirmation and/or monitoring of the disease.
Trusted by Leading Doctors & Hospitals
Over 2000+ Scientific Officers
Proficiency Testing for Accurate Reports
Frequently Asked Questions
Our Blog
Take a look at some of the related content from our blog
What Our Customers Say
We're satisfying our customers every day since 1980

Bena Patel

Sharmila Vaishnav

Ishwarakrishnan

Chris Bessell

Prabhu Gopalakrishnan

Kedar Ambekar
Our Global Reference Lab
Accreditations

DHT- Di Hydro Testosterone Serum Test