Home > Chromogranin A Plasma Test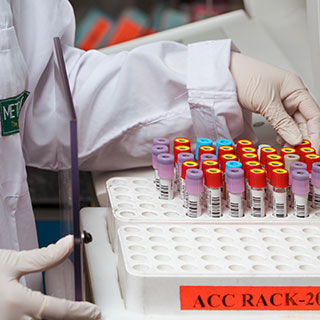 Chromogranin A Plasma Test
Chromogranin A (CgA) test measures the amount of chromogranin A in the blood.
Blood Collection at Home
Smart Report with Trend Analysis
8-stage MET Protocol
Certified CAP & NABL Labs
It should be measured to diagnose and monitor carcinoid tumours and other neuroendocrine tumours and measure the response to these tumours' treatments
Your doctor will recommend this test for you if he sees the signs of carcinoid tumour. The signs include:
Face and neck being deep red colour suddenly
Diarrhoea, nausea, vomiting, abdominal pain, and signs of intestinal blockage
Fast heart rate
Chest pain, wheezing, coughing, difficulty breathing
Chromogranin A (CgA) is a protein released from neuroendocrine cells. These are cells that release hormones against signals from the nervous system. They are found in many organs throughout our body.
Neuroendocrine cells, and the endocrine glands that they are found in, can cause a variety of tumors, both benign and malignant like carcinoid tumors, insulinomas, small cell lung cancers, pheochromocytomas, medullary thyroid carcinomas, some pituitary tumors, and neuroblastomas. This test can be utilised to help in detection, diagnosis, or monitoring response to treatment or relapse of neuroendocrine tumors, specifically carcinoid tumors.
Carcinoid tumors, a division of neuroendocrine tumors, are slow-growing noncancerous or cancerous masses. These form mainly in the digestive tract (stomach, pancreas, small intestine, colon, appendix, rectum) or the lungs.
Reference Values Of Chromogranin A Plasma Test
<93 ng/mL
Interpretations
The level of chromogranin A in the blood is usually low. If you show no signs or symptoms and a normal level of CgA, you cannot have neuroendocrine tumor.
An elevated CgA level when you have symptoms may indicate the presence of a tumor, but it is not specific which is the type tumor or its location.
Basket
(0 items)
TruHealth Checkups
Find the most suitable checkup for you from our range of TruHealth Checkups
Why Metropolis?
Metropolis has a team of 200 senior pathologists and over 2000 technicians delivering diagnostic solutions in the areas of routine, semi specialty and super specialty domains like Oncology, Neurology, Gynaecology, Nephrology and many more.
We offer a comprehensive range of 4000+ clinical laboratory tests and profiles, which are used for prediction, early detection, diagnostic screening, confirmation and/or monitoring of the disease.
Trusted by Leading Doctors & Hospitals
Over 2000+ Scientific Officers
Proficiency Testing for Accurate Reports
Frequently Asked Questions
Our Blog
Take a look at some of the related content from our blog
What Our Customers Say
We're satisfying our customers every day since 1980

Bena Patel

Sharmila Vaishnav

Ishwarakrishnan

Chris Bessell

Prabhu Gopalakrishnan

Kedar Ambekar
Our Global Reference Lab
Accreditations

Chromogranin A Plasma Test