Home > CEA Carcino Embryonic Antigen Test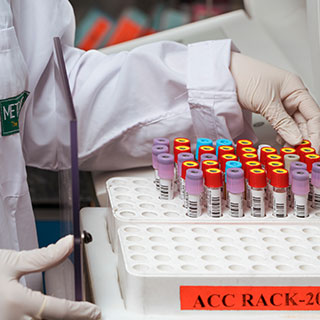 CEA Carcino Embryonic Antigen Test
CEA Carcino Embryonic Antigen Test measures the amount of CEA protein in the blood.
Blood Collection at Home
Smart Report with Trend Analysis
8-stage MET Protocol
Certified CAP & NABL Labs
Primarily to monitor cancer treatment, including response to therapy and recurrence; as an indicator of the amount of cancer or size of tumour present (tumour burden) and to assist in cancer staging; rarely as follow up to a positive screening test for cancer, to know whether the level falls to normal (indicating that the cancer was likely removed) after treatment for the cancer.
This test will be recommended for you if you have been detected with cancer of:
Bladder
Breast
Rectal
Lung
Ovarian
Pancreatic
Stomach
Thyroid
A protein that is present in certain tissues of a developing baby (foetus) is carcinoembryonic antigen (CEA). It drops to a very low level by the time a baby is born. CEA is normally present at very low levels in the blood but may be elevated with certain types of cancer in adults. The evaluation which helps individual to diagnose cancer is measured in this test.
Reference Values Of CEA Carcino Embryonic Antigen Test
A normal level of CEA is less than or equal to 3 nano grams per millilitre (ng/mL). Most healthy people have levels below this amount.
CEA levels will usually return to normal between one and four months after the cancer has been removed successfully. Your doctor will help you interpret the report basis clinical correlation.
Interpretations
For treatment, recurrence monitoring:
When CEA levels are initially elevated and then decrease to normal after therapy, it means the cancer has been successfully treated. A steadily rising CEA level is often the first sign of tumour recurrence.
For staging:
On initial testing, people with smaller and early-stage tumours are likely to have a normal or only slightly elevated CEA Range. People with larger tumours, later-stage cancer, or tumours that have spread throughout the body are more likely to have a high CEA Range.
Testing for metastasis:
If CEA is present in a body fluid other than blood, then the person's cancer is likely to have spread into that area of the body. For example, if CEA is detected in cerebrospinal fluid, this may indicate that cancer has spread to the central nervous system. Since not all cancers produce CEA, it is possible to have cancer but also have a regular CEA. If a cancer doesn't produce CEA, then the test will not be useful as a monitoring tool.
Basket
(0 items)
TruHealth Checkups
Find the most suitable checkup for you from our range of TruHealth Checkups
Why Metropolis?
Metropolis has a team of 200 senior pathologists and over 2000 technicians delivering diagnostic solutions in the areas of routine, semi specialty and super specialty domains like Oncology, Neurology, Gynaecology, Nephrology and many more.
We offer a comprehensive range of 4000+ clinical laboratory tests and profiles, which are used for prediction, early detection, diagnostic screening, confirmation and/or monitoring of the disease.
Trusted by Leading Doctors & Hospitals
Over 2000+ Scientific Officers
Proficiency Testing for Accurate Reports
Frequently Asked Questions
Our Blog
Take a look at some of the related content from our blog
What Our Customers Say
We're satisfying our customers every day since 1980

Bena Patel

Sharmila Vaishnav

Ishwarakrishnan

Chris Bessell

Prabhu Gopalakrishnan

Kedar Ambekar
Our Global Reference Lab
Accreditations

CEA Carcino Embryonic Antigen Test