Home > Calprotectin Stool Test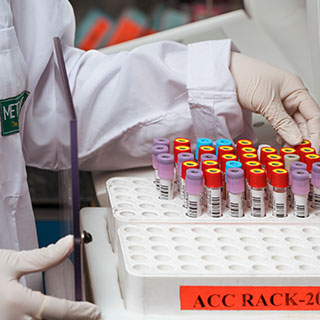 The calprotectin measures the amount of protein calprotectin in your stool
Blood Collection at Home
Smart Report with Trend Analysis
8-stage MET Protocol
Certified CAP & NABL Labs
To detect inflammation in the intestines; to distinguish between inflammatory bowel disease (IBD) and non-inflammatory bowel conditions; to monitor for a condition called "inflammatory bowel disease (IBD)".
Your doctor may recommend this test for you when you show symptoms like:
Bloody or watery diarrhoea
Abdominal cramps
Fever lasting for than few days
Calprotectin is a protein released by the blood cells of the body's defence system-WBCs, especially neutrophils. When there is an inflammation in the body, especially the gastrointestinal tract, the neutrophils get transported to the concerned site of action and release calprotectin, which then gets excreted in the faeces. This test assesses the presence of any inflammatory reactions taking place in the intestine.
Reference Values Of Calprotectin Stool Test
0-110 ug/g faeces: Normal faecal calprotectin
110-1800 ug/g faeces: Raised faecal calprotectin may indicate IBD
Interpretations
An elevated calprotectin level is a person's stool indicates that inflammation is probably present within the intestines but doesn't indicate either its location or cause. Generally, the degree of elevation is related to the severity of the inflammation.
A low calprotectin usually indicates the presence of non-inflammatory conditions that are producing overlapping symptoms as that of inflammatory disorders. Indications of these include viral infections within the digestive tract and irritable bowel syndrome (IBS). Unlike IBD, IBS doesn't cause an inflammation. Rather, it causes cramp-like stomach pains and spasms with bouts of diarrhoea and/or constipation. In people with low calprotectin results, an endoscopy of the digestive tract.
A moderate calprotectin level may indicate the presence of inflammation or exacerbation of the already existing inflammatory conditions. A repeated calprotectin test which reproduces the result as seen in previous test mandate further evaluation with confirmatory tests like endoscopy.
Basket
(0 items)
TruHealth Checkups
Find the most suitable checkup for you from our range of TruHealth Checkups
Why Metropolis?
Metropolis has a team of 200 senior pathologists and over 2000 technicians delivering diagnostic solutions in the areas of routine, semi specialty and super specialty domains like Oncology, Neurology, Gynaecology, Nephrology and many more.
We offer a comprehensive range of 4000+ clinical laboratory tests and profiles, which are used for prediction, early detection, diagnostic screening, confirmation and/or monitoring of the disease.
Trusted by Leading Doctors & Hospitals
Over 2000+ Scientific Officers
Proficiency Testing for Accurate Reports
Frequently Asked Questions
Our Blog
Take a look at some of the related content from our blog
What Our Customers Say
We're satisfying our customers every day since 1980

Bena Patel

Sharmila Vaishnav

Ishwarakrishnan

Chris Bessell

Prabhu Gopalakrishnan

Kedar Ambekar
Our Global Reference Lab
Accreditations