Home > Ca 125 Test Or Cancer Antigen 125 Test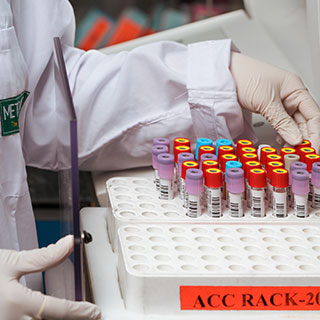 Ca 125 Test Or Cancer Antigen 125 Test
CA 125 test is used to monitor the treatment of Ovarian Cancer. It is also used to test for recurrence of ovarian cancer. In addition, if a woman presents with a mass in the pelvic area; CA 125 test is used to evaluate the mass and order further tests for management.
Blood Collection at Home
Smart Report with Trend Analysis
8-stage MET Protocol
Certified CAP & NABL Labs
The test is recommended if you if you have a family member who may have had breast cancer of if you have inherited the BRCA1 and BRCA2 gene that puts you at high risk for ovarian cancer
You have a close family member who suffered from Ovarian Cancer
If you have earlier suffered from Uterine Breast or Colon Cancer
While this test is most commonly used to screen women, who may be at high risk for ovarian cancer, higher test results are also seen in women with a pelvic mass, uterine fibroids or endometriosis. All these conditions may progress into Ovarian Cancer.
Cancer Antigen 125 (CA-125) is a protein that is found on the surface of ovarian cancer cells. This makes the test useful as marker for ovarian cancer in most cases. The CA-125 test quantifies and is a measure of the amount of CA125 in the blood.
Reference Values Of Ca 125 Test Or Cancer Antigen 125 Test
The normal value for CA125 is less than 46 U/mL.
Higher than normal level means that you have a benign tumor or you could have ovarian, endometrial or fallopian tube cancer.
Interpretations
CA125 levels will decline when the doctor puts you on treatment and if the treatment is working. If CA125 levels do not go down during therapy, it means your treatment is not adequate.
Sometimes CA125 levels are higher if a woman has a pelvic mass and if she may develop ovarian cancer in the future.
Basket
(0 items)
TruHealth Checkups
Find the most suitable checkup for you from our range of TruHealth Checkups
Why Metropolis?
Metropolis has a team of 200 senior pathologists and over 2000 technicians delivering diagnostic solutions in the areas of routine, semi specialty and super specialty domains like Oncology, Neurology, Gynaecology, Nephrology and many more.
We offer a comprehensive range of 4000+ clinical laboratory tests and profiles, which are used for prediction, early detection, diagnostic screening, confirmation and/or monitoring of the disease.
Trusted by Leading Doctors & Hospitals
Over 2000+ Scientific Officers
Proficiency Testing for Accurate Reports
Frequently Asked Questions
Our Blog
Take a look at some of the related content from our blog
What Our Customers Say
We're satisfying our customers every day since 1980

Bena Patel

Sharmila Vaishnav

Ishwarakrishnan

Chris Bessell

Prabhu Gopalakrishnan

Kedar Ambekar
Our Global Reference Lab
Accreditations

Ca 125 Test Or Cancer Antigen 125 Test