Home > Blood Group Abo Rh Typing Test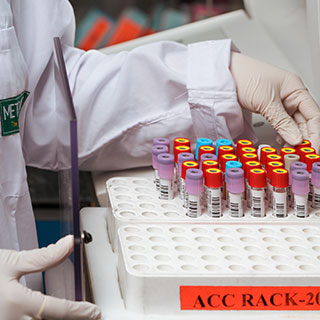 Blood Group Abo Rh Typing Test
Blood Group (ABO & Rh typing) test is used to determine your blood type.
Blood Collection at Home
Smart Report with Trend Analysis
8-stage MET Protocol
Certified CAP & NABL Labs
To determine your ABO blood group and Rh type
Blood type test is done to understand your blood type. There are 4 categories of blood:
Type A has the A antigen.
Type B has the B antigen.
Type AB has both A and B antigens.
Type O has neither A nor B antigens.
Blood groups are classified based on the proteins present on the surface red blood cells (RBCs), known as surface antigens, which are unique to each blood group. Two important antigens or surface identifiers on human RBCs are the A and B antigens. Another important surface antigen is called Rh. Blood typing or blood group testing detects the presence or absence of these antigens to determine a person's ABO blood group and Rh type.
Reference Values Of Blood Group Abo Rh Typing Test
Not applicable
Interpretations
The results of blood typing will figure out if a person is type A, B, AB, or O and if they are Rh negative or positive. The results will tell the healthcare provider about the blood and blood components that are safe to receive, if the person needs blood in some circumstances such as accidents when there is excessive blood loss, certain blood disorders or during some medical surgeries. Blood group AB are considered as universal recipients and can accept blood from donors of any blood group, and those with blood group "O" are called universal donors, where their blood can be accepted by recipients of all blood group. Rest of the blood groups-A and B, can receive or transfuse blood restricted to those with blood group A and B, respectively; however patients with these blood groups can accept blood from persons with blood group O and donate blood to those with blood group AB.
Basket
(0 items)
TruHealth Checkups
Find the most suitable checkup for you from our range of TruHealth Checkups
Why Metropolis?
Metropolis has a team of 200 senior pathologists and over 2000 technicians delivering diagnostic solutions in the areas of routine, semi specialty and super specialty domains like Oncology, Neurology, Gynaecology, Nephrology and many more.
We offer a comprehensive range of 4000+ clinical laboratory tests and profiles, which are used for prediction, early detection, diagnostic screening, confirmation and/or monitoring of the disease.
Trusted by Leading Doctors & Hospitals
Over 2000+ Scientific Officers
Proficiency Testing for Accurate Reports
Frequently Asked Questions
Our Blog
Take a look at some of the related content from our blog
What Our Customers Say
We're satisfying our customers every day since 1980

Bena Patel

Sharmila Vaishnav

Ishwarakrishnan

Chris Bessell

Prabhu Gopalakrishnan

Kedar Ambekar
Our Global Reference Lab
Accreditations

Blood Group Abo Rh Typing Test