Home > Arthritis Profile Test- Rheumatoid Arthritis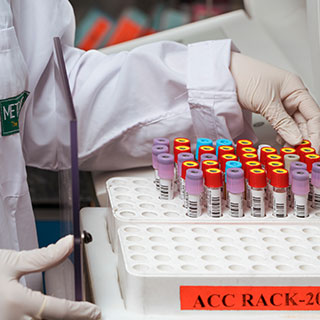 Arthritis Profile Test- Rheumatoid Arthritis
Arthritis test is conducted to diagnose rheumatoid arthritis.
Blood Collection at Home
Smart Report with Trend Analysis
8-stage MET Protocol
Certified CAP & NABL Labs
This test will help diagnose rheumatoid arthritis (RA)
Your doctor might refer this test to you if you show symptoms of rheumatoid arthritis which include:
Joint stiffness
Nodules under the skin
Bone density loss
Loss of cartilage
Rheumatoid factor is an autoantibody, an immunoglobulin M protein that is produced by the body's immune system. Autoantibodies attack a person's own tissues mistakenly identifying the tissue as "foreign". While the biologic role of RF isn't well understood, its presence is beneficial as an indicator of inflammatory and autoimmune activity. RF in the blood is detected by this test. This test is a valuable test for helping to diagnose rheumatoid arthritis. 80% of these with RA will have a positive RF test. However, RF can also be detected in people with various other disorders. Some of these disorders include Sjogren syndrome, as well as persistent bacterial, viral an parasitic infections and certain cancers. It may sometimes be seen in those with lung disease, liver disease and kidney disease and it can be found in a small percentage of healthy people
Reference Values Of Arthritis Profile Test- Rheumatoid Arthritis
The normal reference range for RF is less than 15 IU/mL or less than 1:16.
Interpretations
A negative RF test doesn't rule out RA. About 20% of individuals with RA will have very low levels of or no detectable RF. In these cases, a CCP antibody test could also be positive and can be used to confirm RA.
Positive RF test results may also be seen in 1-5% of healthy people and in some people with conditions such as: Sjogren syndrome, scleroderma, systemic lupus erythematosus (lupus), sarcoidosis, endocarditis, tuberculosis, syphilis, HIV/AIDS, hepatitis, infectious mononucleosis, cancers such as leukaemia and multiple myeloma, parasitic infection, or disease of the liver, lung, or kidney. The RF test isn't used to diagnose or monitor these other conditions.
Basket
(0 items)
TruHealth Checkups
Find the most suitable checkup for you from our range of TruHealth Checkups
Why Metropolis?
Metropolis has a team of 200 senior pathologists and over 2000 technicians delivering diagnostic solutions in the areas of routine, semi specialty and super specialty domains like Oncology, Neurology, Gynaecology, Nephrology and many more.
We offer a comprehensive range of 4000+ clinical laboratory tests and profiles, which are used for prediction, early detection, diagnostic screening, confirmation and/or monitoring of the disease.
Trusted by Leading Doctors & Hospitals
Over 2000+ Scientific Officers
Proficiency Testing for Accurate Reports
Frequently Asked Questions
Our Blog
Take a look at some of the related content from our blog
What Our Customers Say
We're satisfying our customers every day since 1980

Bena Patel

Sharmila Vaishnav

Ishwarakrishnan

Chris Bessell

Prabhu Gopalakrishnan

Kedar Ambekar
Our Global Reference Lab
Accreditations

Arthritis Profile Test- Rheumatoid Arthritis