Home > Apolipoproteins Test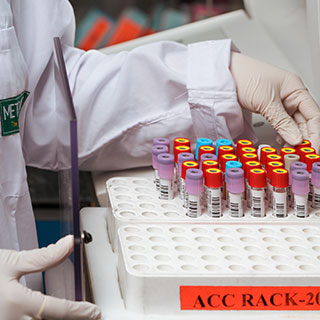 An Apolipoproteins Test measures the amount of low density lipoproteins (LDL) in the blood.
Blood Collection at Home
Smart Report with Trend Analysis
8-stage MET Protocol
Certified CAP & NABL Labs
Doctors usually order both an apo A-I (associated with HDL (HDL), the "good" cholesterol) and an apo B regulate an apo B/apo A-I ratio. This ratio is utilised as an alternate to a total cholesterol/HDL ratio to assess the risk for developing CVD.

Apo B levels could also be ordered to inspect the effectiveness of lipid treatment as substitute to non-HDL-C (non-HDL-C is the total cholesterol concentration minus the amount of HDL).
Your doctor may recommend this test for you if he suspects that you may have an increased chance of heart disease. You may need this test if you have had a heart attack in the past.
Apo-A is a protein that plays a vital role in lipid metabolism, and is one of the important components attached to HDL or "good cholesterol". HDL performs a critical role in removing excess of cholesterol from the cells, transporting it to liver where its gets recycled or disposed. Thus, the amount of APO-A present in the blood directly correlates to the HDL levels, and similarly, deficiencies of APO-A is associated with increased risk of developing cardiovascular disease.
Similar to Apo-lipoprotein A1, Apo B is also a protein that is involved in the metabolism of lipids and is the main protein constituent of lipoproteins such as very low-density lipoprotein (VLDL) and LDL (LDL, the "bad cholesterol"). Concentrations of Apo B are directly proportional to LDL-C.
Reference Values Of Apolipoproteins Test
Reference Value depends on age, gender and medical history. A normal Reference Value is listed below:
Apolippoproteins A1 – 110 - 205 mg/dl
Apolipoproteins B – 55 – 140 mg/dl
Apolipoprotein A1/B Ratio: 0.76 – 3.23


Interpretations
Low levels of apo A-I are associated with low levels of HDL, indicating problems in the clearance of cholesterol from blood. Low levels of apo A-I, along with high concentrations of apo B, are linked to an increased risk of CVD.
Basket
(0 items)
TruHealth Checkups
Find the most suitable checkup for you from our range of TruHealth Checkups
Why Metropolis?
Metropolis has a team of 200 senior pathologists and over 2000 technicians delivering diagnostic solutions in the areas of routine, semi specialty and super specialty domains like Oncology, Neurology, Gynaecology, Nephrology and many more.
We offer a comprehensive range of 4000+ clinical laboratory tests and profiles, which are used for prediction, early detection, diagnostic screening, confirmation and/or monitoring of the disease.
Trusted by Leading Doctors & Hospitals
Over 2000+ Scientific Officers
Proficiency Testing for Accurate Reports
Frequently Asked Questions
Our Blog
Take a look at some of the related content from our blog
What Our Customers Say
We're satisfying our customers every day since 1980

Bena Patel

Sharmila Vaishnav

Ishwarakrishnan

Chris Bessell

Prabhu Gopalakrishnan

Kedar Ambekar
Our Global Reference Lab
Accreditations