Home > Androstenedione A4 Serum Test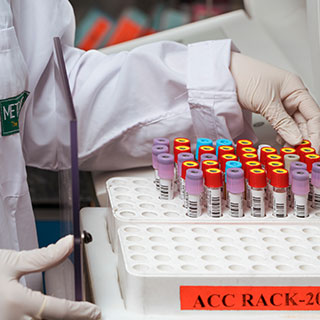 Androstenedione A4 Serum Test
Androstenedione A4 Serum test measures the amount of androstenedione in the blood.
Blood Collection at Home
Smart Report with Trend Analysis
8-stage MET Protocol
Certified CAP & NABL Labs
AndrostenedioneA4Serum levels are measured to

Help evaluate adrenal gland function
Detect adrenal tumors or cancers
Help determine the cause of development of certain male characters in females (facial hair)
To evaluate androgen production and function of ovaries in women or testicular function in men
Your doctor would recommend this test for a woman if he sees the signs of infertility or excessive male androgens. The symptoms include:
Deep voice
Excess Acne
Hirsutism: excess facial and/or body hair
Irregular menstrual cycle
Male pattern baldness
Strong defined muscles
Androstenedione is an androgen, one of several "male" sex hormones that are responsible for the sexual differentiation between males and females, by development of certain male characteristics such as hoarse voice and facial hair. Though it is considered to be a "male" sex hormone, it is present in males and females both- and is a precursor to more potent androgens, such as testosterone, or converted into the female hormone estrogen. This test quantifies the androstenedione in the blood.
Reference Values Of Androstenedione A4 Serum Test
Your doctor will interpret the report based on age, gender or medical history
Adult males: 65-210 ng/dL (2.27-7.33 nmol/L)
Adult Females: 80-240 ng/dL (2.79-8.38 nmol/L)
Interpretations
A normal androstenedione level, along with normal results obtained for androgen levels and other normal adrenal tests, indicate a properly functioning adrenal gland.
An elevated level of androstenedione indicated augmented adrenal, ovarian or testicular activity. Small fluctuations in concentration are usually normal. An increased level may indicate an adrenal tumor, adrenal cancer, adrenal hyperplasia, or congenital adrenal hyperplasia (CAH). An increased level is does not lead to definite diagnosis and indicates further specific testing to pinpoint the fundamental cause.
A low level of androstenedione may be attributed to adrenal gland dysfunction, adrenal insufficiency, or to ovarian or testicular failure.
In those with CAH who are being treated with glucocorticoid steroids, normal levels of androstenedione tend to be a measure of success of the treatment in suppressing excess androgen production, while elevated levels indicate the need for treatment modulation.
Basket
(0 items)
TruHealth Checkups
Find the most suitable checkup for you from our range of TruHealth Checkups
Why Metropolis?
Metropolis has a team of 200 senior pathologists and over 2000 technicians delivering diagnostic solutions in the areas of routine, semi specialty and super specialty domains like Oncology, Neurology, Gynaecology, Nephrology and many more.
We offer a comprehensive range of 4000+ clinical laboratory tests and profiles, which are used for prediction, early detection, diagnostic screening, confirmation and/or monitoring of the disease.
Trusted by Leading Doctors & Hospitals
Over 2000+ Scientific Officers
Proficiency Testing for Accurate Reports
Frequently Asked Questions
Our Blog
Take a look at some of the related content from our blog
What Our Customers Say
We're satisfying our customers every day since 1980

Bena Patel

Sharmila Vaishnav

Ishwarakrishnan

Chris Bessell

Prabhu Gopalakrishnan

Kedar Ambekar
Our Global Reference Lab
Accreditations

Androstenedione A4 Serum Test