Home > Maternal screen (Quadruple marker test) Third trimester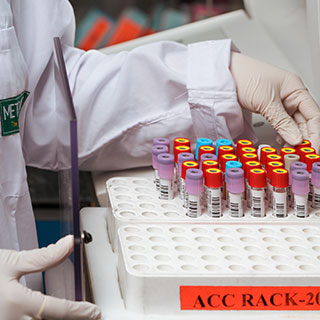 Maternal screen (Quadruple marker test) Third trimester
This test is done between the 16th and 18th weeks of pregnancy. Your doctor may order this test for you up to the 22nd week of pregnancy.
Blood Collection at Home
Smart Report with Trend Analysis
8-stage MET Protocol
Certified CAP & NABL Labs
This test is conducted between the 15th and 20th weeks of pregnancy. The test is often most recommended under the following scenarios

The pregnant woman is 35 years old or older
Dual Marker tests were abnormal
There is a family history of birth defects
The pregnant woman is diabetic and under insulin medication
If it is suspected that the pregnant woman was exposed to a high dose of radiation
A viral infection during pregnancy
Quadruple Marker Test (Also called Quad screen) – This includes
AFP (Alpha-fetoprotein)
uE3 (unconjugated Estriol)
hCG (Human Chorionic gonadotrophin)
Inhibin A
AFP (Alpha-fetoprotein)
AFP or alpha fetoprotein is made by the foetal liver and some amount of this substance gets into the mother's blood. Higher levels of AFP are seen in Neural tube defects and levels are decreased in Down syndrome and Edward syndrome.
What if I am a man and have high AFP level?
What if I am a non-pregnant woman and have high AFP level?
In men, non-pregnant women, and children, AFP in the blood can mean certain types of cancer, especially cancer of the testicles, ovaries, stomach, pancreas, or liver are present.

uE3 (Unconjugated Estriol)
Estriol is a hormone produced by the placenta, using ingredients made by the fetal liver and adrenal glands. In pregnancies with Down Syndrome or Edward Syndrome, it is observed that the Estriol levels are reduced.
Inhibin - A
Inhibin-A is secreted by the ovary and the role is to ''inhibit'' the production of FSH, follicle stimulating hormone. Higher levels of Inhibin A is measured in the blood of mothers of fetuses with Down syndrome.
Reference Values Of Maternal screen (Quadruple marker test) Third trimester
Your doctor will help you interpret your report basis your test results
Increased risk for HCG uE3 AFP Inhibin A
Open spina bifida Normal Normal High Not Applicable
Anencephaly Low Low High Not Applicable
Down syndrome High Low Low High
Edwards syndrome Low Low Variable Not Applicable
Interpretations
If a screen is positive, more tests are needed that can confirm the diagnosis and state the condition definitively. These include high-resolution ultrasound and perhaps amniocentesis followed by chromosome analysis. These follow-up tests are used to help women and their healthcare practitioners make decisions about managing their pregnancies.
Basket
(0 items)
TruHealth Checkups
Find the most suitable checkup for you from our range of TruHealth Checkups
Why Metropolis?
Metropolis has a team of 200 senior pathologists and over 2000 technicians delivering diagnostic solutions in the areas of routine, semi specialty and super specialty domains like Oncology, Neurology, Gynaecology, Nephrology and many more.
We offer a comprehensive range of 4000+ clinical laboratory tests and profiles, which are used for prediction, early detection, diagnostic screening, confirmation and/or monitoring of the disease.
Trusted by Leading Doctors & Hospitals
Over 2000+ Scientific Officers
Proficiency Testing for Accurate Reports
Frequently Asked Questions
Our Blog
Take a look at some of the related content from our blog
What Our Customers Say
We're satisfying our customers every day since 1980

Bena Patel

Sharmila Vaishnav

Ishwarakrishnan

Chris Bessell

Prabhu Gopalakrishnan

Kedar Ambekar
Our Global Reference Lab
Accreditations

Maternal screen (Quadruple marker test) Third trimester