Home > Maternal screen (Dual marker test) First trimester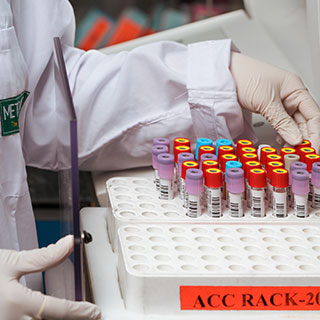 Maternal screen (Dual marker test) First trimester
The Dual Marker test is conducted in the First Trimester along with a ultrasound to understand the risk of chromosomal abnormalities in a foetus.
Blood Collection at Home
Smart Report with Trend Analysis
8-stage MET Protocol
Certified CAP & NABL Labs
This test is done in pregnant women to identify serious birth defects early in the pregnancy
Also called prenatal screening
Dual or Double marker test in first trimester, identifies pregnancies that have a high risk of babies having the following chromosomal abnormalities: Trisomy 21 (Down's syndrome), Combined Trisomy 13 (Patau syndrome)/ Trisomy 18, (Edwards syndrome)
This test is NOT a diagnostic test; it only identifies the risk of the baby being affected. Your doctor will order follow up and confirmatory test when the results of dual marker tests indicate a risk
For pregnant women, to check if the baby is at a risk of having chromosomal disorders such as Down syndrome (trisomy 21) or Edwards syndrome (trisomy 18). Dual Market in the firsr trimester is done between the 11th and the 14th week of pregnancy. A dual marker is recommended for all pregnant women. Below risk factors increase the chance of birth defects and hence under these risk factors, it is important to take the dual marker test
age 35 or older pregnant females
family history of birth defects
previous child born with a birth defect
History of diabetes, dependence on insulin in type 1 diabetes
Dual or Double Marker Test (with or without NT)– This includes
Free β hCG (Free Beta Human Chorionic Gonadotropin)
PAPP - A (Pregnancy Associated Plasma Protein – A) Free β hCG (Free Beta Human Chorionic Gonadotropin) Human Chorionic Gonadotropin (hCG) is a glycoprotein hormone normally produced by placenta during pregnancy
Very early in pregnancy, it is the substance used in pregnancy tests and urine pregnancy kits
The hormone consists of two subunits – alpha and beta chain subunits
There is a significant increase in the level for free beta hCG subunit in Trisomy 21 cases; the levels are lower in Trisomy 18 cases PAPP - A (Pregnancy Associated Plasma Protein – A): As the name suggests, is an important pregnancy protein
PAPPA is synthesised in the placenta. The levels in pregnancy are 150 times higher than those in non-pregnant states
If Trisomy 21 or Trisomy 18 is present, then the PAPPA levels are reduced in the first trimester and this gives a risk profiling of the foetus
Reference Values Of Maternal screen (Dual marker test) First trimester
Maternal screen (Dual marker test) First trimester
Interpretations
What if my dual marker tests show high risk?
Dual Marker tests are not diagnostic tests and hence there is a chance that you may be having a healthy pregnancy. If your dual marker test comes positive and shows high risk, your doctor may order additional testing like Chorionic Villus Sampling (CVS) and Amniocentesis. These tests, though invasive have more than 99% accuracy in diagnosing
Basket
(0 items)
TruHealth Checkups
Find the most suitable checkup for you from our range of TruHealth Checkups
Why Metropolis?
Metropolis has a team of 200 senior pathologists and over 2000 technicians delivering diagnostic solutions in the areas of routine, semi specialty and super specialty domains like Oncology, Neurology, Gynaecology, Nephrology and many more.
We offer a comprehensive range of 4000+ clinical laboratory tests and profiles, which are used for prediction, early detection, diagnostic screening, confirmation and/or monitoring of the disease.
Trusted by Leading Doctors & Hospitals
Over 2000+ Scientific Officers
Proficiency Testing for Accurate Reports
Frequently Asked Questions
Our Blog
Take a look at some of the related content from our blog
What Our Customers Say
We're satisfying our customers every day since 1980

Bena Patel

Sharmila Vaishnav

Ishwarakrishnan

Chris Bessell

Prabhu Gopalakrishnan

Kedar Ambekar
Our Global Reference Lab
Accreditations

Maternal screen (Dual marker test) First trimester