Service
capital
Our service capital critically assists us in facilitating value creating activities. Customer centricity approach, world-class quality services with accessibility, conclusive diagnosis, and comprehensive test profiles to serve better, form the nucleus of Metropolis. Our service capital comprises employees' skill set and service offerings along with a wide network presence and laboratories.
Our test categories
Routine tests: Blood chemistry analyses, blood cell counts and urine examination
Semi-specialised: Thyroid function tests, viral and bacterial cultures, histology, cytology, and infectious disease tests
Specialised tests: Coagulation studies, autoimmunity tests, cytogenetics, and molecular diagnostics
Metropolis -Test Mix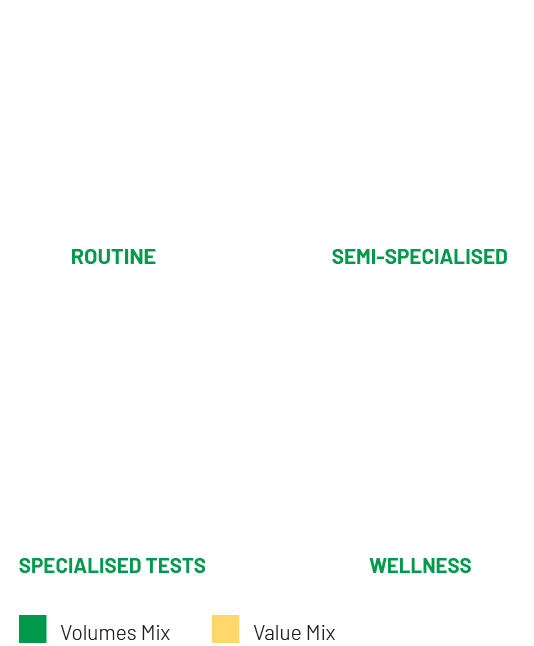 TruHealth
To serve our customers better, we launched a mobile app TruHealth. This takes us one step closer to our customers while raising the bar of our service. The app includes the following accessibilities:
Customised Check-ups | Booking Appointments | See, Share & Store Reports | Fitness Tracker | Inner Health Tracking Parameters | Medication Tracker | Locate Doctors, Hospitals & Metropolis Nearby | Chat with Experts | Google of Test & Ailments – Health Hub | Notification Center
The growth story
We have continuously been strengthening Metropolis Brand by entering newer markets through organic growth. To command an unmatched leadership position in the existing and new markets, we have expanded organically and inorganically to create a win-win situation for both. The acquired entity enjoys our brand strength, infrastructure, network, and test menu.
To expand our market share in one among our list of focus cities, we acquired 4frontend labs in Surat. It will allow us to build synergy and efficiency at the backend while expanding the consumer franchise on the front end.
We merged Histoxpert operation into the Metropolis parent company. Histoxpert is our one-year old joint venture with Metropolis holding 65% of the shareholding. It provides digital pathology services to hospitals focused on cancer care. This merger will reduce corporate cost of Histoxpert and provide better synergy for consumers on the frontend.
During the year, were located and expanded our Delhi regional reference laboratory from 8,000 sq. ft to 15,000 sq ft. A larger and upgraded test menu, processed for our Delhi facility, will allow Metropolis to further build market share in North India. It will assist by expanding processing capacity, improving TAT and adding scientific expertise.
Geographies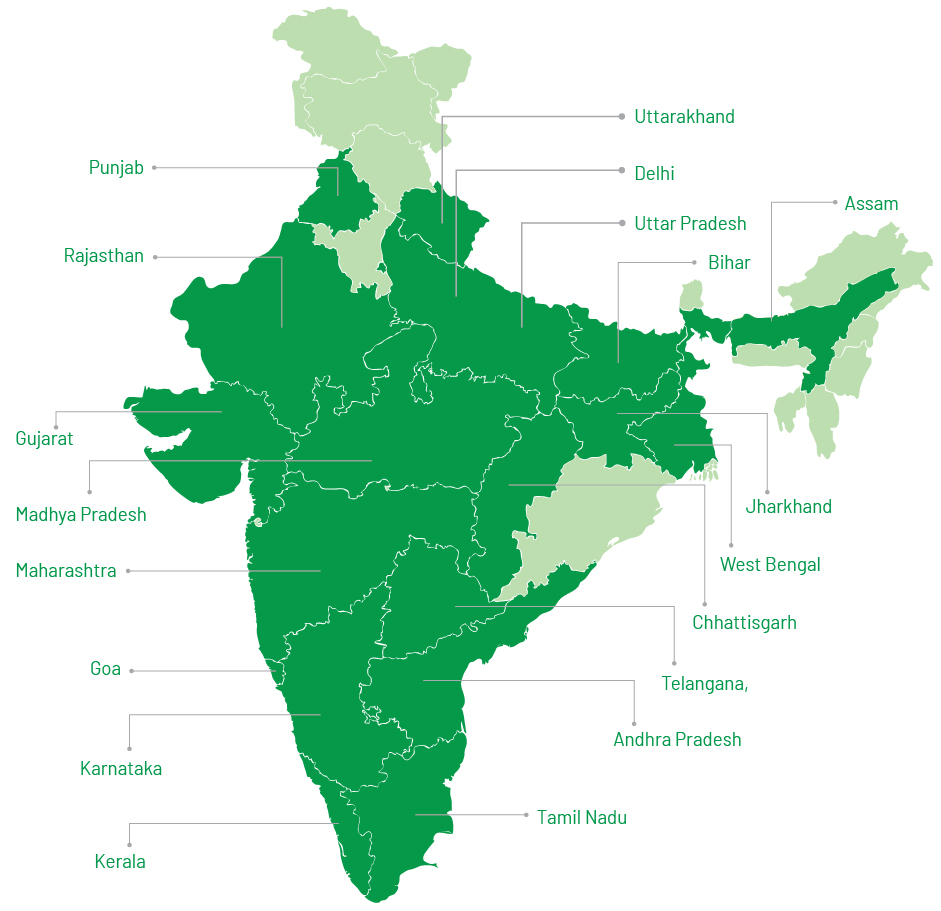 Widespread network and facilities
19 Indian States & 220 Cities
incl udes 405 added during the year
Express labs ; 5 outside India
Satellite labs; 1 outside India
Of the existing individual patients to uch points added during the period 2017-20
Patient to uch points , 2,303 added during FY2016-20
We have initiat ed steps to rationalise our service network which will lead to better productivity and efficiency as well as improvement in management bandwidth .
Disclaimer: This map is a generalised illustration only for the ease of the reader to understand the locations, and is not intended to be used for reference purposes. The representation of political boundaries and the names of geographical features / states do not necessarily reflect the actual position. The Company or any of its Directors, Officers or Employees cannot be held responsible for any misuse or misinterpretation of any information or design thereof. The Company does not warrant or represent any kind in connection to its accuracy or completeness.